Sports
All Russians Are Tainted by Putin's Regime
The government's corruption has put Olympic athletes -- as well as ordinary citizens -- under a cloud of suspicion.
by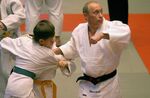 The International Olympic Committee's decision to let Russian athletes compete in the Rio Olympics if they can prove that they haven't used performance-enhancing drugs won't be popular with other countries. Nonetheless, it was the right call. But it also carries some unpleasant undertones: It formally requires Russians to prove that they are not tainted by the rotten regime that runs their country.
On Tuesday, the Olympic summit -- a meeting of the movement's top officials -- adopted a declaration that backed an earlier decison by track and field's world governing body to ban the Russian athletics federation from international competition. That decision was based on the finding by the World Anti-Doping Agency of a clear state-supported doping culture in Russian track and field; Kenya also was declared non-compliant. So the IOC said athletes from these countries wouldn't automatically be considered clean -- instead, they'd have to provide evidence of their compliance with doping regulations to the international federations that run their sports: 
The Olympic Summit considers the "presumption of innocence" of athletes from these countries being put seriously into question. As a result, every IF should take a decision on the eligibility of such athletes on an individual basis to ensure a level playing field in their sport. In this decision-making process, the absence of a positive national anti-doping test should not be considered sufficient by the IFs. This means that the respective IF should take into account other reliable adequate testing systems in addition to national anti-doping testing.
This is the most favorable decision Russia could hope for. The government had been preparing for a complete ban that might extend beyond track and field. Sports Minister Vitaly Mutko said as much Monday. And on Tuesday, ahead of the IOC meeting, the Russian parliament approved a statement condemning a possible blanket ban:
It seemed that the time when sports were used as a political weapon, with Olympics and other competitions boycotted because of political differences, has been long gone. Yet today some people are trying to drag that mothballed political weapon back from history's dump.
The anxiety implicit in these statements is understandable: Respected Western athletes are angry about the slowness of sports and anti-doping officials in exposing the Russian doping system. The athletic community is putting pressure on the officials to keep Russia out because it's been blatantly dishonest on a systemic level. The IOC could have simply endorsed a full ban to avoid the hassle of dealing with individual cases and the accusations that it is allowing potential cheaters to participate.
IOC President Thomas Bach will be criticized for Tuesday's decision, and it will have messy consequences. The Russian athletics federation and Olympic committee will take their case against the ban to the international Court of Arbitration for Sport, while individual athletes will try -- and in some cases fail -- to prove their eligibility for competition. Even those who pass will be under a cloud of suspicion: recent WADA reports on Russia have thoroughly ruined the country's reputation. The open interference of the Russian security apparatus in concealing doping violations showed the issue went well beyond the shenanigans of some individual coaches and sports officials.
It is only right, though, that some athletes will be allowed to compete under the Russian flag in Rio rather than some neutral one, as some have suggested -- and as some Russian stars, such as pole vaulter Yelena Isinbayeva, have refused to do. The flag does, after all, represent the country and its people, not the regime. Mutko, the sports minister who has done little to prevent the doping scandal, is opposed  to the request by the whistleblower Yulia Stepanova, whose revelations led to the track and field ban, to be allowed to compete in the Olympics. Yet the sport's ruling body has granted her permission, and she will compete for Russia: The flag belongs to her just as much as it does to Mutko.
President Vladimir Putin has built the current Russian system, which combines shows of patriotism with cynical corruption. In a country ruled by an authoritarian leader, the system's failings are the leader's fault. That makes the doping scandal Putin's responsibility. Yet Putin is himself a former athlete, and he seems unable to condone the idea of unfair competition by shrugging off the ban as just another example of Western hostility to Russia. He has held back his loyalists who wanted to play that propaganda card, and he has not called for an Olympic boycott as some hotheads have suggested. Putin clearly hoped the IOC would let some Russians compete: On Tuesday, his press secretary Dmitri Peskov said nobody was "interested  in creating such a precedent" as a blanket ban. 
Instead of pulling out of the Olympics in a huff, Putin wants his sports officials to "protect the interests of our athletes not associated with doping." This means both appealing the track and field ban and providing proof of compliance in individual cases.
Russia will probably be able to field a decent team at the Olympics thanks to Putin's preference for compliance over theatrics.
But the IOC's decision has exposed a deeper unease.
In a whole range of pursuits -- from business to culture -- Western partners want proof from Russians that they are not part of the Putin regime. Russian property buyers and potential business partners face more strenuous checks than the international sanctions regime requires. Russian cultural figures and academics aren't invited to international events because they're known as Putin loyalists who have backed the Crimea invasion or the war in eastern Ukraine. Many Russians -- including some less vocal Putin opponents -- have noticed that they're not as welcome in the West as they were before Crimea.
The IOC has formalized that feeling: Russians have been told to prove they're clean. It's assumed -- on the basis of plentiful data -- that the regime has corrupted those who live under it.
As a Russian citizen, this stigma is hard for me to accept, but here are my choices: I can assume, as many Russians do, that the West hates my country and all its people, or I'm forced to prove that the Putin taint isn't on me. I understand why some see the latter option as humiliating, but I can't honestly support the former because I believe the regime to be rotten and worthy of condemnation. That doesn't mean the flag doesn't belong to me. too.
To contact the author of this story:
Leonid Bershidsky at lbershidsky@bloomberg.net
To contact the editor responsible for this story:
Max Berley at mberley@bloomberg.net
Before it's here, it's on the Bloomberg Terminal.
LEARN MORE