Middle East
Netanyahu Loses His Allies But Keeps His Grip on Power
Israel's leader has quashed his proteges, so who is ready to replace him?
by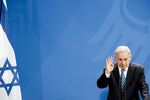 For most elected leaders, the speech Moshe Ya'alon gave last week at the annual Herzliya conference in Israel would have been devastating. Here Ya'alon, the former defense minister, accused his onetime patron Prime Minister Benjamin Netanyahu of deliberately scaring Israelis in order to stay in power.
Some of this can be chalked up to egos. Ya'alon, who oversaw the Israel Defense Forces operations that quieted the Second Intifada, was asked by Netanyahu to leave his post to make room for Avigdor Lieberman, a man more than half of Israelis in a recent poll said was unqualified to run the defense ministry.
But Ya'alon's remarks were particularly brutal. "Israel must remain being a Jewish, democratic state, and part of the family of peoples," he warned. "It must not allow the violent and racist discourse of a radical minority that have infiltrated the mainstream and the leadership to roll us down to the abyss." And with that, he announced his plans to run to replace Netanyahu, no small matter for a parliamentary system that can hold elections whenever the current coalition breaks apart.
But Netanyahu is not like most Western leaders. His office issued a terse response, and the prime minister went on with the dreary work of running the world's only Jewish state. When I spoke with Netanyahu loyalists last week about Ya'alon and other former senior officials in his government now openly attacking the prime minister, they seemed unfazed. One of them told me: This is Israel; they call you a fascist if the garbage isn't picked up on time.
Perhaps. But in Netanyahu's case, the loss of political allies and proteges has become a feature of his governing style. Israel's prime minister has more ex-friends than Norman Podhoretz, the editor of Commentary who wrote a memoir about how many friends he lost as he migrated to the right.
In this respect, Ya'alon's defection is part of a larger pattern. Ehud Barak, the former Labor prime minister who joined Netanyahu's coalition government (to the consternation of his own party) is now openly calling Netanyahu a fascist. Two former heads of the Israeli military, Benny Gantz and Gabi Ashkenazi, last week announced plans to form their own social movement for change in Israel, a move many analysts see as a first step toward entering the political process.
Two of the prime minister's former chiefs of staff, Naftali Bennett and Avigdor Lieberman, broke with Netanyahu and formed their own political parties. The same is true for Moshe Kahlon, a former senior member of Netanyahu's Likud Party who in 2014 formed a centrist party, which was joined by the prime minister's former ambassador to the U.S., Michael Oren. While all three today participate in the coalition government under Netanyahu, they campaigned against their former boss bitterly before doing so. "He is a very lonely man who has the toughest job in the world in the toughest neighborhood in the world," Oren told me last week.
Some on the Israeli left would like to attribute all this to Netanyahu's ideological rigidity. But if anything, the prime minister has proven himself to be flexible on the core question of Israeli politics: peace with the Palestinians. Here is a man who lost the leadership of Likud in 2000 to Ariel Sharon, who attacked his decision as prime minister to reluctantly negotiate with the Palestinian Authority. A few years later when Sharon planned the unilateral withdrawal from Gaza, Netanyahu openly opposed it, forcing Sharon to leave Likud. When U.S. President Barack Obama urged him to engage in a peace process with the Palestinians in 2009, Netanyahu gave a speech that endorsed the creation of a Palestinian state. Yet in the 2015 elections he promised there would be no such state as long as he was prime minister.
Part of Netanyahu's success is that he is very good at campaigning and going around the mainstream media. The media is not always his best friend: His wife is currently under investigation, accused of using public money for her own personal use. A much less damning scandal brought down the first government of Yitzhak Rabin, whose wife was accused of having a bank account in the U.S. that she opened when her husband was ambassador in Washington. And yet Netanyahu's Likud still polls way ahead of rival parties.
Lahav Harkov, the Knesset correspondent for the Jerusalem Post, said this is because most of the prime minister's rivals are not seen as ready for the job. "I think a lot of the people who've come up against Netanyahu, who were his former proteges and allies, are the JV squad," she told me. "When Lieberman, Bennett and others came out against him, they didn't really know what they were doing in politics, and Netanyahu has benefitted from that."
Yair Lapid, a former television journalist whose center-right party Yesh Atid won the second most Knesset seats in the 2013 elections, told me Netanyahu has had a few advantages in his second run as prime minister. "He has an automatic advantage the incumbent always has, and up until recently the economy was doing really well," he said. Lapid, who served a little more than a year as Netanyahu's finance minister before he was fired at the end of 2014, was gracious. "He has done a lot of good things for Israel," he said. "The only problem is that the machine has stopped." Lapid, like many Israeli politicians, believes Netanyahu has been in power for too long.
And this gets to the riddle of Netanyahu. He has served more years than any prime minister besides David Ben Gurion, the first man to hold that job. But most Israelis would scoff at comparing him to the father of their nation. Ben Gurion ruled Israel as a visionary. Netanyahu rules Israel today by default.
To contact the author of this story:
Eli Lake at elake1@bloomberg.net
To contact the editor responsible for this story:
Philip Gray at philipgray@bloomberg.net
Before it's here, it's on the Bloomberg Terminal.
LEARN MORE