Editorial Board
India Loses Its Vital Central Banker
The government should show it remains committed to reform even after Raghuram Rajan's departure.
by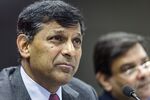 In few countries would a central banker's decision to step down at the end of his term be cause for national and even global anxiety. Raghuram Rajan is no ordinary central banker, however, and his just-announced departure demands an extraordinary response from India's government.
The government has the right to choose the head of the Reserve Bank of India, and no individual -- not even an international financial superstar such as Rajan, who said he plans to return to academia when his term ends in September -- is bigger than the bank itself. At the same time, the circumstances of Rajan's departure have left global investors with a few unfortunate impressions. It's important for the government to dispel these as quickly as possible in order to shore up its credibility and the bank's.
The first is the ugly implication that Rajan was eased out because he wasn't "fully Indian," in the words of Subramanian Swamy, an upper-house legislator from the ruling Bharatiya Janata Party. Rajan, of course, despite spending most of his career at the University of Chicago, is an Indian citizen; his real sin appears to have been to criticize the government obliquely in a widely publicized speech decrying rising intolerance.
The government has already signaled that this criticism is invalid -- the shortlist of replacements for Rajan reportedly includes at least one economist who's spent much of his career in the U.S. More important, the government should make clear that whoever gets the nod will have the freedom to speak critically and pursue an autonomous RBI policy, unbound by political considerations.
The second impression is that Rajan was pushed out because he was too hawkish on interest rates (an impression reinforced after his announcement by at least one senior official). Even if that were once true, it's certainly not the case now, with both oil and food prices likely headed higher.
Almost as important as the choice of a new bank chief will be who the government nominates to fill a planned new monetary policy committee, tasked with pursuing an inflation-targeting regime much like the Fed's. The candidates should be announced quickly and have as few political ties and ambitions as possible. Better still, the government, which is meant to pick three of the panel's six members, could reduce its share of appointees so as to bolster the central bank's autonomy.
A third (and particularly damaging) impression is that Rajan's departure is somehow related to his drive to clean up the balance sheets of state-owned banks, where political considerations have often interfered in financial decisions. Rajan's right: Such practices have put state banks in a perilous state and need to be eradicated. Officials have suggested the central bank pump its own capital into struggling state-owned banks, but a better option would be for the government to fix bank management, closing down or privatizing the worst offenders. Keeping them afloat only drains resources from the effort to recapitalize banks that have brighter prospects.
Ultimately, the best way to reassure investors about India's prospects is to revive the momentum behind big-ticket structural reforms, which has flagged in recent months. On Monday, the administration smartly took a step in this direction, opening up sectors from aviation to broadcasting to 100 percent foreign ownership for the first time. If Rajan's exit prompts more such moves, he'll have done India one final service.
--Editors: Nisid Hajari, Michael Newman.
To contact the senior editor responsible for Bloomberg View's editorials: David Shipley at davidshipley@bloomberg.net .
Before it's here, it's on the Bloomberg Terminal.
LEARN MORE