Finance
Don't Believe the Fed's Stress Tests
A simple model suggests the top six banks would come up $350 billion short in a crisis.
by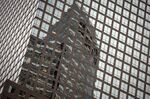 This week, the Federal Reserve plans to announce the results of stress tests aimed at ensuring that the largest U.S. banks could weather a major crisis. With the exercise in its sixth year, it's worth asking whether the banks are really better prepared.
The answer, according to an alternative measure of systemic risk: not so much.
For all the Fed's laudable efforts to make the stress tests credible, the exercise still doesn't bear much relation to what actually happens in a crisis. For one, it assumes that banks could get by with very little equity capital. Also, it looks primarily at how each institution fares in isolation, and not enough at how distress at some banks can affect others. Hence, a passing grade doesn't mean that a bank is prepared for the worst.
A group of economists at New York University has taken a different approach. Instead of trying to parse banks' myriad holdings and simulate a financial crisis in all its complexity, they built a simpler model. Drawing on the relationship between banks' stock prices and the market as a whole, it estimates how much banks stand to lose in a rout similar to that of 2008 -- and how much added equity capital they would have to raise to avoid distress.
The result isn't comforting. As of June 10, the NYU model estimated that the six largest U.S. banks would face a capital shortfall of more than $350 billion in the event of a 40 percent decline in the stock market. That's better than the $430 billion estimated shortfall of six years ago, but worse than last year's $213 billion. The sharp increase during the past year probably stems from concerns about plunging oil prices and faltering global growth, which have driven down bank stocks and boosted their volatility.
Here's a chart showing the NYU model's shortfall estimates over time (for the top six banks):

Of course, no risk measure is perfect. Still, the evidence suggests that the Fed's stress tests have a long way to go.
To contact the author of this story:
Mark Whitehouse at mwhitehouse1@bloomberg.net
To contact the editor responsible for this story:
James Greiff at jgreiff@bloomberg.net
Before it's here, it's on the Bloomberg Terminal.
LEARN MORE