India
"Rexit" Is Bad News for India
The departure of central banker Raghuram Rajan raises uncomfortable questions about the country's credibility.
by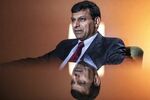 All too often, the stewards of India's economy have been short of credibility. Politicians' promises of economic reform are rarely fulfilled, bureaucrats' assurances are widely disbelieved, and even India's growth numbers have become objects of suspicion. Of late, one institution and its leader had proven exceptions to this rule: the Reserve Bank of India and its governor, Raghuram Rajan. That's why the government's decision to push Rajan out the door constitutes self-harm of monumental proportions.
Rajan, as with much else during his tenure, broke the news of his departure unconventionally, in a letter to the central bank's employees well in advance of the government's announcement of any decision. Clearly, if Prime Minister Narendra Modi's government would not confirm him, then he had little reason to hang about waiting for the inevitable. His letter subtly and gracefully made clear that he felt unwelcome: Rajan wrote that he was "open" to staying on, but following "consultations with the government," had decided to leave.
Rajan becomes the first RBI governor since India's economic liberalization began more than two decades ago not to serve an extended, five-year term. The decision to grant an additional two years to a governor serving a three-year term had become almost automatic. Worst of all, the Modi government appears to have chosen to break this nascent (and healthy) tradition for the poorest of reasons: its unease with Rajan's independence.
Rajan had discomfited the government on several occasions -- most notably, when he delivered a widely-shared speech arguing for freedom of expression and the tolerance of different ideas and beliefs. The address merely restated basic liberal principles and linked national progress to an open and diverse marketplace of ideas. But many in India's Hindu nationalist ruling party took it as a direct affront. That Rajan had served as a top economic advisor in the previous administration, run by the nominally liberal Congress party, didn't help.
Whatever their personal beliefs, Modi and his more urbane ministers, such as Finance Minister Arun Jaitley, have signally failed to prevent the more radical members of the ruling Bharatiya Janata Party from attacking anything and anyone they see as not Indian enough -- whether beef-eating Muslims or foreign-educated economists. Rajan, although he has never given up Indian citizenship and has always had one eye on public service, became the target of noisy condemnations issued by powerful BJP leaders. He had little reason not to suppose the government wanted him out; even a relatively mild statement tempering euphoria over India's economic numbers was harshly criticized by a raft of senior ministers, including Jaitley. Rajan was forced to apologize.
The best-case scenario is worrying enough: that Modi and Jaitley were upset about Rajan's hawkishness on interest rates and allowed him to be attacked, knowing they could then replace him with someone more malleable. If so, the RBI's hard-won independence on monetary policy -- preserved and strengthened by successive governors sparring with profligate politicians in New Delhi -- has been undermined, perhaps fatally.
That the best-case scenario is so dire tells you exactly how big a disaster Rajan's forced exit is.
There are more worrying possibilities. Rajan, as an economics professor, studied and wrote against crony capitalism. As RBI governor, he's been working diligently to clean up the balance sheets of Indian banks stressed by bad lending to politically influential tycoons. The effort provoked some resistance, with the government warning that banks -- 70 percent of which are state-owned -- were reluctant to bring bad loans into the open for fear that the original lending might invite criminal prosecution. While Rajan did caution against a "witch-hunt" targeting bankers who had done nothing wrong, this might have been viewed by the government as not enough of a compromise on his part. If so, India's vital battle against cronyism and bad lending risks being watered down or abandoned, with dangerous consequences for the entire financial sector.
And then there's the hard-to-dismiss possibility that the government chose the anti-Rajan campaigners as instruments in a larger effort to install pliant economic managers across the board. Even the Prime Minister's admirers will admit that Modi doesn't encourage too much independent thought among his deputies. When he came to power, he passed over many of the most accomplished economic managers in his party -- such as former Finance Minister Yashwant Sinha and ex-privatization czar Arun Shourie -- for the finance portfolio. Jaitley, who got it instead, is a lawyer, but more importantly someone who can be trusted not to speak out of turn. Now, appointments of bureaucrats and regulators have to get Modi's personal seal of approval -- and only his -- in a departure from previous custom. The outspoken Rajan may simply have been too much of a maverick for comfort.
Either way, the apparent and unfortunate message is that within India's government, commitment and loyalty is prized over competence. This is dangerous indeed. In an increasingly uncertain world, it's crucial for emerging markets to maintain credibility. Those that appear to value transparent and skilled economic leadership are the ones that will survive coming storms. The circumstances of Rajan's departure have seriously devalued India's credibility. "Rexit," as wags in Mumbai have called it, could prove as damaging in its own way to India as Brexit would be to Britain.
To contact the author of this story:
Mihir Sharma at m.s.sharma@gmail.com
To contact the editor responsible for this story:
Nisid Hajari at nhajari@bloomberg.net
Before it's here, it's on the Bloomberg Terminal.
LEARN MORE