Share the View
When Chit-Chat Runs Afoul of Securities Law
A daily digest of opinions and analysis from Bloomberg View.
by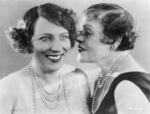 Hedge-Fund Consultant Bantered for Inside Information
It's fine to gossip and and it's fine to trade stocks, but if you're going to do both, some ways are more legal than others. Matt Levine analyzes a murky insider-trading case that shows the fine line between chit-chat and criminality.
A Peek Inside Trump's Smoke and Mirrors Tour
The Donald constantly boasts of his business acumen, but how successful is he, really? Timothy L. O'Brien -- one of the lucky few to have laid eyes on his elusive tax returns -- offers a video overview of Trump's record as an entrepreneur, dealmaker and (briefly) semi-pro wrestler.
Why You'll See Clinton's Wall Street Speeches Soon
Her socialist competitor is out of the way, but her reputation for being untrustworthy lingers. Albert R. Hunt says that as Hillary Clinton turns her focus to Trump, she'll have every incentive to release the transcripts. 
The Dangers of Killing Islamic State's Caliph
The terrorist leader Abu Bakr al-Baghdadi might have died in a U.S. airstrike this month, according to uncomfirmed reports and social-media chatter. But even if the rumors prove true, it's not necessarily a victory: Tobin Harshaw says Baghdadi's successor could be even more fearsome.
Don't Let Mississippi Establish Anti-Gay Religion
It's unconstitutional for a state to protect a single set of beliefs, but that's exactly what's happening in Mississippi. Noah Feldman explains why a new law affording special protections to gay-marriage opponents goes against the First Amendment.  
Ritholtz's Reads
(Read Barry Ritholtz's full daily news roundup.)
Bloomberg Gadfly 
(Read more from BV's sister site for fast business commentary.)
Get Share the View every morning in your inbox. Click here to subscribe.
To contact the author of this story:

Before it's here, it's on the Bloomberg Terminal.
LEARN MORE