U.K.
How Europe Pushed Britain Toward the Door
EU leaders could have made Cameron's task easier. Instead, they rebuffed him.
by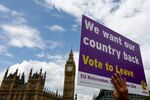 So Britain might actually do it. With a week to go before the referendum on June 23, recent polls say the campaign to quit the European Union is ahead. The government and its allies in the Stay campaign are alarmed.