Europe Can't Outsource Its Migrant Crisis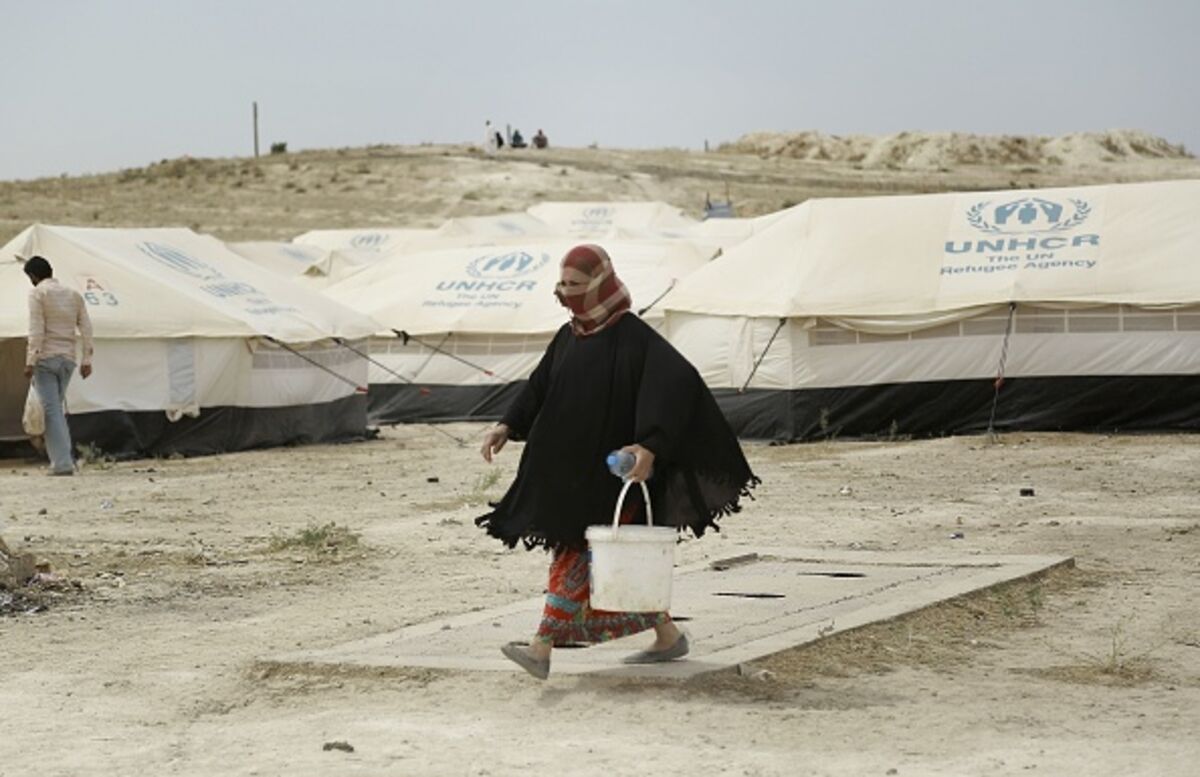 Another drop in the bucket.
Photographer: DELIL SOULEIMAN/AFP/Getty Images
Europe's latest plan to stem the flow of migrants to its shores raises awkward questions. The situation is urgent, and the need for bold action is indisputable -- but the new proposals are both troubling and inadequate.
In effect, the European Commission's new "Partnership Framework" tells migrants' home countries they'll be rewarded with trade and aid for curbing the outflow, and punished if they fail to. As it stands, this plan is unlikely to work; to the extent it does work, it may put refugees in danger.
Last year, some 1 million people came to the EU seeking sanctuary and better lives. Nearly 3,000 people have died crossing the Mediterranean this year. Most migrants embark from Libya and, increasingly, Egypt. More and more of them are unaccompanied minors. Criminal syndicates have turned migrant smuggling to Europe into an estimated $6 billion business.
So it's understandable that the EU wants to replicate the initial success of its arrangement with Turkey, which agreed to let Greece send back "all new irregular migrants" in exchange for 6 billion euros ($6.8 billion) and the right for its citizens to travel to Europe without visas. The deal cut arrivals through Greece by 90 percent, and considerably reduced the flow to Europe overall. But arrivals through Italy are undiminished.
Under the new proposal, the EU will spend 8 billion euros ($9.1 billion) over five years on aid for more than a dozen countries in Africa and the Middle East. In return, they must cooperate in accepting the return of more arrivals to their countries of origin or transit, cracking down on smugglers, and generally improving migration management. Over the longer term, the EU also hopes to raise about 60 billion euros of mostly private money for investment to address the root causes of migration. The EU says it will use its trade, aid and visa policies to reward countries that cooperate, and that "there must be consequences for those who do not cooperate on readmission and return."
What's the problem with this? Simply that many of the would-be partner governments are much less competent than Turkey's (think Mali or Niger), or corrupt and unjust (think Eritrea or Sudan). Without close oversight and effective accountability, they can't be trusted to properly discharge their partnership responsibilities -- and they shouldn't be encouraged, in effect, to stop migration by any means necessary.
There's another drawback: Linking aid to stopping migration opens the EU up to blackmail. After the EU did its deal with Turkey, Niger demanded an extra 1 billion euros ($1.1 billion) in aid to curb the outflow. Kenya has threatened to close the Dadaab refugee camp, the world's largest.
The Commission is right, though, to offer more money for helping refugees in place. It's proposing more support for refugees in Lebanon and Jordan, which have borne a huge burden, but the commitment still isn't adequate. The new Government of National Accord in Libya, the point of departure for migrants headed across the Mediterranean, also needs more of this kind of support. Joining efforts to crack down on smuggling gangs is a win-win proposition for both the EU and the weak states it wants to assist. And well-targeted development aid can help keep people at home by easing or averting humanitarian emergencies.
There's no quick or easy fix for this problem. Balancing humane (and lawful) treatment of refugees with what Europe's citizens are willing to accept is an enormous challenge, and likely will be for years to come. Europe will doubtless need to spend more money -- but it can't meet all its obligations in this matter just by paying other governments to take care of it.
To contact the senior editor responsible for Bloomberg View's editorials: David Shipley at davidshipley@bloomberg.net.