European Economy
Buying Junk Shows ECB Is Getting Desperate
Mario Draghi is running out of ammunition.
by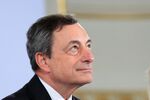 Would you lend taxpayer money to Volkswagen AG, the disgraced automaker that's worth 35 percent less than it was a year ago? How about providing financial succor to Telecom Italia, which both Moody's Investors Service and S&P Global Ratings regard as a junk borrower unworthy of investment grade status?
Those are just some of the unintended consequences of the European Central Bank's renewed efforts to resuscitate the euro zone economy by expanding its quantitative easing program to include corporate securities. This week, it effectively loaned state cash to both the Germany carmaker and the Italian telecoms company by including their bonds on its shopping list of securities purchases. No wonder the legitimacy of the central bank's decision to enlarge its mission is being challenged in the German courts. 
The ECB's enlarged bond-buying exercise is nothing if not awkward. The central bank maintains it is merely using another tool in its monetary policy box. But the unpalatable truth is that widening the bond-buying program beyond government debt is evidence of policy failure, not success. Even though the buying has driven government borrowing costs to record lows -- Germany's 10-year yield touched 0.02 percent on Friday, as close to zero as makes no difference -- there's little prospect of inflation returning to the bank's 2 percent target rate anytime soon.
The euro zone's problem isn't a lack of supply of cheap money, it's a lack of demand for investment capital. Moreover, European companies don't need the ECB's help to drive down their borrowing costs; as this chart shows, bond yields were already near rock-bottom levels by the time Draghi announced he was extending the range of his QE purchases:

The ECB isn't lending to Volkswagen because the carmaker needs its money. The central bank hopes that the cash allocated to its bond-buying program will somehow make its way into the real economy and stave off the threat of deflation. But it's buying corporate debt because it risks running out of sufficient qualifying government bonds to maintain its promised QE pace of expanding its balance sheet by an additional 80 billion euros ($90 billion) every month.
For two consecutive months, the ECB has spent less on Portuguese and Irish bonds than its own rules say it should. Analysts are interpreting that parsimony as a signal that the central bankers are concerned there aren't enough government bonds to last the full course of the program, which is scheduled to expire in March 2017.
It's almost four years since Draghi's pledge to do "whatever it takes" to save the euro fended off what was becoming an existential crisis for the common-currency project. His repeated calls for euro zone governments to add fiscal firepower to his efforts to resuscitate the economy continue to fall on deaf ears. Monetary policy is still the only defense the euro region has against the dangers of deflation.
When taxpayer money is being invested in a junk-rated company like Telecom Italia, it's pretty clear that monetary policy is close to exhaustion in terms of what it can deliver for the economy. This week's expansion of the ECB's QE program is cause for concern, not celebration. 
(
Corrects chart to show Draghi announced corporate bond-buying program in March.
)
To contact the author of this story:
Mark Gilbert at magilbert@bloomberg.net
To contact the editor responsible for this story:
Therese Raphael at traphael4@bloomberg.net
Before it's here, it's on the Bloomberg Terminal.
LEARN MORE