Latin America
Why Venezuela Is Feeling No Peer Pressure
Opposition leaders won't be getting much support from neighboring countries, which are reluctant to meddle.
by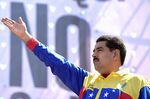 The news out of Venezuela couldn't be grimmer. Annual inflation is the highest in the world. Food is so scarce that desperate people are rifling through trash for scraps while others have taken to looting. But don't tell that to the country's diplomats. They're on a roll.
Last year, Venezuela took a rotating seat on the United Nations Security Council, and even presided over the world body in February. Starting in July, it will chair the South American trade bloc, Mercosur. And last week President Nicolas Maduro's envoys won the blessings of international peacemakers to hold  "open and inclusive dialogue" with the same political opposition whose leaders his security forces tear gassed on the streets of Caracas Tuesday.
Ostensibly, the call to dialogue was a slap to the Maduro regime, whose truculent ways with dissenters have drawn widespread rebuke from public figures around the world. And yet the Venezuelan autocrat, who is facing massive protests and a possible recall petition, never flinched. That could be because he saw the diplomatic initiative for what it was -- not a reprimand, but merely a neighborly nudge towards democratic civility. 
That's an honored tradition in Latin American diplomacy, where the gentleman's agreement is to speak out boldly whenever outsiders (read: the United States and its friends) are seen to meddle in the sovereign affairs of a member nation, but look the other way when that nation tramples human rights at home. "Intervention is frowned upon in Latin America, even when no one supports a disastrous leader," Marcos Azambuja, a former Brazilian diplomat, told me.
Such diffidence has allowed authoritarian leaders not just a free hand with their opponents but the cloak of regional complicity in their excesses. Nowhere is that pact more evident than at the Union of South American Nations, or Unasur, an ultra-nationalistic talking shop, inspired by the late Venezuelan strongman Hugo Chavez, which has been designated to broker the Venezuela dialogue.
"Unasur is Venezuela's comfort zone," said Jaime Aparicio, a former Bolivian ambassador to the U.S. "Maduro is less interested in dialogue than in gaining time."
For Maduro, timing is crucial. An emboldened opposition is pushing a referendum to drive him from power through a recall vote. The recall needs to happen by Jan. 10, though, to trigger new elections. After that date, power would simply be transferred to his vice-president, thus locking-in "Chavismo" -- the brand of authoritarian populism that Chavez built -- through the end of the term in 2019. So not surprisingly, Maduro's bureaucrats are doing their best to stonewall.
Still, the official crackdown in Venezuela -- where the government has jailed critics, muted independent media and smothered private business -- is causing alarm abroad and putting Latin America's diplomacy of indulgences to the test.
Luis Almagro, secretary general of the Organization of American States, has been one of the few to break ranks with this pact of amigos. Since taking over the highest diplomatic body in the Americas last year, he has lashed out at the Venezuelan autocrat, accusing him of trying to bully dissidents and shred the constitution. "You betray your people and your supposed ideology with your rambling tirades," Almagro wrote him in a scathing open letter on May 18.
Almagro also called on OAS members to suspend Venezuela from their group  for violating the Inter-American Democratic Charter, a charge he laid out in a lavishly-detailed 114-page report. This was a big deal: the democratic charter, signed in 2001, binds 35 nations in the region not just to respect democratic rule but to act whenever democracy is in danger. It has never been invoked against a sitting Latin leader.
The rest of Latin America seems underwhelmed. Almagro's bid to censure Venezuela requires the backing of two-thirds of the OAS member nations -- the same nations that voted just last week to endorse the anodyne appeal to dialogue.
Not even Argentine President Mauricio Macri, an outspoken critic of Venezuela's undemocratic ways, raised a fuss during that parley. Granted, Macri reportedly had his own agenda. He's said to be pushing for Argentine Foreign Minister Susana Malcorra to become the next secretary-general of the United Nations, and so is loath to antagonize potential support in Latin America.
The only holdout was Paraguay, Venezuela's regional nemesis, which abstained from endorsing the dialogue appeal  and immediately felt the blowback: a demand from Caracas that Paraguay's state oil company repay a longterm $287 million loan -- within 10 days.
There's no conciliation on the horizon. At Unasur's request, former Spanish prime minister Jose Luiz Zapatero recently flew to Caracas apparently to convince Venezuela's top opposition leaders to soften up and meet Maduro halfway. The catch? They had to drop their efforts for a recall vote. The opposition demurred.
Venezuela's open and inclusive dialogue is off to a difficult start.
To contact the author of this story:
Mac Margolis at mmargolis14@bloomberg.net
To contact the editor responsible for this story:
Susan Warren at susanwarren@bloomberg.net
Before it's here, it's on the Bloomberg Terminal.
LEARN MORE