U.K.
If Britain Leaves the EU, U.S. Banks Lose
U.S. banks generate almost all of their EU revenues in Britain.
by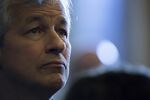 Britain's pro-Europe camp drafted Jamie Dimon last week to warn about the dangers of quitting the European Union. Some commentators questioned the wisdom of enlisting the American JPMorgan chief to sway hearts and minds of Brits. A better question might be why the banking chief went to Bournemouth to share a platform with Chancellor of the Exchequer George Osborne.