Russia
An Artist Makes Putin's Regime Mock Itself
Petr Pavlensky used his trial for setting a door on fire as the occasion to publicly thumb his nose at the state.
by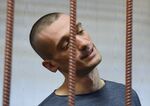 When the radical Russian artist Petr Pavlensky set fire to the door of a secret intelligence building in Moscow in November, his gesture was little understood, even by opponents of President Vladimir Putin's regime. It was arson, not art, many argued. But by Wednesday, when Pavlensky was sentenced to a fine and freed, it was clear that he had produced a thing of beauty: a trial he directed from behind bars that forced his accusers and the judge to cooperate in his Kafkaesque performance.
Pavlensky's previous performances -- stitching his mouth shut in support of the jailed members of punk group Pussy Riot or nailing his scrotum to the cobblestones of Red Square to show that Russians were captives of the the Kremlin -- were shocking, but they were brief and immediately obvious. One could argue that they sent too simple a message. Yet even by those standards, he appeared to go downhill. The door-burning seemed silly, an act of hooliganism, a desperate publicity stunt. 
His own explanation didn't make much sense. "Fear turns free people into a sticky mass of uncoordinated bodies," he said. "The threat of inevitable reprisals hangs over anyone within the reach of surveillance cameras, wiretaps and the boundaries of passport control." So what else was new?
What followed showed that the artist had a more intricate plan.
He was initially charged with ideologically motivated vandalism, an offense that carries a  maximum of three years in prison. Pavlensky loudly disagreed: He insisted on being tried for terrorism, like the two Ukrainian activists in Crimea who received long prison terms for burning the door of a local office of the pro-Putin United Russia party. Pavlensky knew it wasn't in the authorities' interest to throw the book at him, which would generate the kind of adverse publicity that the Pussy Riot trial created for the Putin regime. But he scored his first point of the performance when his demands fell on deaf ears. His gesture was dismissed as a minor crime, while the Ukrainians' action was seen as a threat to Russian power on the annexed peninsula. But the different standards made Russian justice appear absurdly selective and politically motivated.
Whoever was directing the trial for the Kremlin clearly was not interested in another Pussy Riot-style publicity disaster, so, in response to Pavlensky's attempt to politicize the trial, the prosecution sought to remove politics altogether. Charges against the artist were changed to "damaging an element of cultural heritage," which carried the same maximum punishment. The authorities couldn't resist getting into an artistic dispute with Pavlensky: the new charge was meant to make the point that he had destroyed, rather than created, cultural value.
Pavlensky had an ingenious response. As he sat in jail in Moscow, he was being tried in his home city of St. Petersburg on a separate vandalism charge -- for burning tires on a historic bridge to evoke a mini-revolution. In late April, two provocatively dressed young women walked into the St. Petersburg courtroom as witnesses for the defense. They were prostitutes recruited by Pavlensky's lawyer merely to state their opinion of Pavlensky's work. The women said they considered Pavlensky mentally unstable and didn't see him as an artist. "He doesn't paint pictures of daisies, does he?" one said. The judge was too disoriented to stop the farce, letting Pavlensky hijack the prosecution's attempt to philosophize on what constituted art.
Meanwhile in Moscow, the prosecution had to prove the cultural value of the heavy door of the infamous building on Lubyanka square where people were tortured during Stalin's purges. During a hearing in mid-May, the prosecutor found a way to do this. "Here, outstanding figures of science and culture were confined," he said. The phrase made the news and spread on the social networks: Pavlensky couldn't have come up with a more biting mockery himself.
The prosecutor's attempt to attach cultural value to a door that led to a torture chamber was hard to beat, but Pavlensky had one more card to play. After the prosecution demanded a fine of 1.5 million rubles ($23,600), the defense petitioned the prosecutor general to punish the FSB secret police for illegally replacing the original door with a new one in 2008. The replacement, said the complaint, "had no trace of resemblance to the genuine door designed by architect Alexei Schusev." Pavlensky was accusing the FSB of committing the same crime with which he had been charged -- destroying the cultural heritage.
On Wednesday, the Moscow court gave the artist a 500,000 ruble fine and let him go. "Even if I had the money, I have no desire to pay," Pavlensky told reporters in the courtroom. "It would look as though I were paying the FSB for this performance."
Nonetheless, the performance turned out to be costly for Pavlensky: He spent seven months in jail and suffered a cruel beating at the hands of prison guards. Yet he has earned the respect of his peers and Putin opponents by coolly orchestrating his farcical trials. Last month, the Human Rights Foundation, headed by the former chess champion Garry Kasparov, awarded him the Havel Prize for Creative Dissent. Kasparov praised his "artistic precision and courage" as a "lone artist standing up against the most powerful institution of Vladimir Putin's Russia."
Perhaps more important for Pavlensky, Oleg Kulik, one of Russia's best-known performance artists, wrote on Facebook: "Art is when your words fit your actions, and when you do not let your attention stray even when it's hard not to smile, your cracked ribs hurt and you want to go back to your loved ones."
Pavlensky is probably one of Russia's best-known artists, even though he has long given up canvas and paint. He is doing something vastly more difficult and important: Exposing the absurdity and impotence of a regime that holds millions of people in fear or coerces support through crude propaganda. His messages are simple and personally costly. They may be ignored or dismissed, but they are the kind of art that makes the most sense in today's Russia because they say more about the state of the country than any painting or sculpture could.
The system is unable to crush or digest Pavlensky, and he will keep on accusing and provoking. His fame will never make him rich, but making fools of Putin's security apparatus is a reward in itself, a badge of honor.
To contact the author of this story:
Leonid Bershidsky at lbershidsky@bloomberg.net
To contact the editor responsible for this story:
Max Berley at mberley@bloomberg.net
Before it's here, it's on the Bloomberg Terminal.
LEARN MORE