view
A Historic Victory for Hillary Clinton
A daily digest of opinions and analysis from Bloomberg View.
by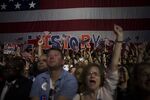 Hillary Clinton Embraces Being the First
The former secretary of state declared herself the victor of the Democratic presidential primary on Tuesday (a day after the Associated Press inconveniently broke the news). Jonathan Bernstein analyzes the strategy behind her heavy-on-women's-history victory speech, while Albert R. Hunt explains why so much came down to the Golden State.  
Meanwhile, on the Other Side of the Aisle...
Donald Trump swept all five states at play Tuesday's Republican primaries -- including California, where John Kasich received more than 100,000 protest votes. But as Margaret Carlson details, his campaign has hit a decidedly rocky patch, and Frank Wilkinson says there's good chance the reality-TV star will drag his party down with him.
Attention, Politicians: The Industrial Revolution Is Over
In the U.S. and China alike, officials are desperate to preserve factory jobs -- even at the expense of sound economic policy. Michael Schuman warns that politicians' fixation on the manufacturing sector could cause more harm than good.
How A Data Revolution Can Solve Plane Mysteries
It's now possible to livestream cockpit data. So why are so few airlines doing it? Adam Minter looks into the new technology that could mean an end to years-long searches for black boxes. 
Quote of the Day (Unicorn Fanfic Edition)
Matt Levine discovers a new literary genre: "I kind of can't believe that [until now] no one has written Theranos vampire fan fiction. Theranos is perhaps the biggest business story of the year, and vampire fan fiction is our century's only viable literary genre, and Theranos is a company that takes your blood for possibly nefarious purposes. Also the turtlenecks. It is all, in hindsight, so obvious. Anyway, here's 'Thanatos.'"
Ritholtz's Reads
The worst mutual fund in history (ValueWalk)
On trade: Make the Neanderthals great again! (Teachable Moment)
You know almost nothing about the economy. Get used to it. (WSJ)
(Read Barry Ritholtz's full daily news roundup.)
Get Share the View every morning in your inbox. Click here to subscribe.
To contact the author of this story:

Before it's here, it's on the Bloomberg Terminal.
LEARN MORE