Editorial Board
A Little Commercialism Can Help National Parks
A balance can be struck that protects national parks from both corporate excess and government neglect.
by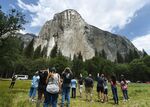 Smokey Bear knows that small campfires, if properly restricted and responsibly managed, can enrich people's wilderness experience without causing forest fires. It's an obvious point that critics of the National Park Service's latest fundraising effort seem to forget. 
The park service needs more money. It gets $3 billion a year from taxpayers, but its backlog of repairs runs to more than $11 billion. Running a system with more land than Italy -- and one that welcomes more than 300 million visitors annually -- is expensive.
Rather than appropriate more funding, Congress has told the National Park Service to go hat-in-hand for private donations -- and to offer as enticement "donor recognition" displays. Critics fear that such displays will turn national parks into college bowl games, each with a corporate sponsor. But if sensibly contained, sponsorships can be a saving grace for the parks. 
"Yosemite, sponsored by Starbucks?" makes for a provocative headline, and many news reports have suggested that the parks will be going up for sale. In fact, Congress has barred selling naming rights "to any unit of the National Park System or National Park Service facility, including a visitor center." Advertising slogans are also forbidden. Donors can be recognized only within limits: inside park facilities, on benches, bricks, pathways, plazas, bear cans and vehicles, and near a construction or restoration project. Those are reasonable limits on signage in the parks.
As the park service celebrates its 100th anniversary, it's clear that more creative fundraising strategies and public-private partnerships will be essential to success in its next century. There was a time when the park service could rely on a small cadre of generous benefactors to supplement government spending. And it still attracts private donations. In 2014, the National Park Foundation raised $46 million. That's nothing to sneeze at, but neither is it an impressive figure, considering that New York City's Central Park Conservancy raises about that much every year, and many top universities raise hundreds of millions of dollars annually.
Those institutions have spent decades cultivating donors, but they have also used a tool that's been off-limits to national parks: naming rights. Most new university buildings are named for donors, and visitors to Central Park encounter playgrounds, benches and trees named for donors. There's even a carousel and skating rinks named for one local concessionaire.
National parks can now begin dipping their toes in these waters, to raise money for initiatives that otherwise would be unaffordable. It will be up to the public, and the next president, to ensure that they dip carefully. But fear of commercialism shouldn't deprive the parks of badly needed resources. A balance can be struck that protects these national treasures from both corporate excess and government neglect.
--Editors: Francis Barry, Mary Duenwald.
To contact the senior editor responsible for Bloomberg View's editorials: David Shipley at davidshipley@bloomberg.net .
Before it's here, it's on the Bloomberg Terminal.
LEARN MORE