view
Peru's Election Challenge: Don't Mess It Up
Voters must decide which of two centrist presidential candidates is best suited to build on this prospering country's strength.
by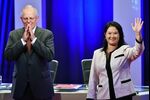 In a continent where politics is still painted as a battle between the left and right wing, Peru is hard to place. Consider Sunday's presidential election, in which an election-eve poll showed Pedro Pablo Kuczynski pulling slightly ahead  of former frontrunner Keiko Fujimori. Both candidates are business-friendly pragmatists who have pledged to respect the free market, keep the country open to trade and free of fiscal misadventures.
So instead of traders pulling out of the Lima bourse or betting against the Peruvian sol, it's business as usual in the prospering Andean nation as investors prospect for post-election opportunities. (Spoiler: renewable energy and infrastructure are drawing keen interest, Bloomberg News reports.)
Why the hard tack to the center? That might be because Peru's politicians have learned from going down the wrong road before. Spendthrift populism and ultra-nationalism thrived across Latin America in the 1980s and 1990s. And since those policies also led to dysfunctional government, social unrest and violence, democracy was often the casualty. Happily, that's a path that most Peruvian politicians now seem keen to avoid.
So instead of clashes warmed-over from the Cold War, this election is more about who is better qualified to raise living standards, strengthen democracy, keep citizens safe and ensure clean government.
That's not to say there's no differences between the candidates. Certainly international investors would be delighted with Kuczynski, who made his original career on Wall Street. After all, he's one of them. When he wasn't guiding Peru's economy -- including stints as central bank governor, finance minister, and even prime minister -- he was busy making deals for hedge funds and overseeing lending at First Boston International.
Polls show Peruvians trust Kuczynski more on managing the economy, creating jobs and attracting investment.
Fujimori, who earned an MBA at Columbia University, is also seen as supporting market capitalism, but with a strong commitment to improving education, reducing poverty and delivering on projects. Both candidates have pledged to plow big money into building roads and bridges.
Here's where the picture gets more complicated. Kuczynski, 77, is cultured (he's a concert flautist), polyglot, and cosmopolitan, and has impeccable credentials as a manager. For those same reasons he is sometimes tarred by critics as chilly and aloof, with little feel for the common man.
Fujimori, on the other hand, is faulted for who people fear she might become. The elephant in the room is her father, Alberto Fujimori, a right-wing populist, who ruled with an iron hand as Peru's president in the 1990s. Many Peruvians remember him fondly for defeating the Maoist terrorist group, Shining Path. But he's most notorious for human rights violations and a government riddled with corruption -- offenses for which he's currently serving a 25-year jail term.
No such transgressions weigh against the 41-year-old Keiko, but critics worry she might bend to her father, for whom she stood in as First Lady during his administration after her parents divorced. She's an avid campaigner, as comfortable in a crowd as Kuczynski is in pinstripes. But she also provokes ire among many Peruvians, who have made "anti-Fujimorismo" their protest mantra. 
If Fujimori does win, she'll do well to heed her critics. A good start would be to reassure Peruvians she has no plans to pardon her father. She might also have acted sooner to distance herself from her campaign mentor, Popular Force party leader Joaquin Ramirez, whom she insisted on defending even after reports surfaced that he was under investigation by the U.S. Drug Enforcement Administration for money laundering.
Both candidates know the stakes. In a punishing year for Latin America, Peru stands out for its low inflation, modest government debt and one of the fastest growing economies in the hemisphere.
Those merits are a measure of how Peruvian democratic politics has succeeded in swapping ideology for economic results. However, translating those gains into safe streets, clean government and jobs -- the top three concerns for voters -- is still elusive.
For the third consecutive administration, a Peruvian president has seen the economy surge while his approval ratings collapsed, a blunt message from voters who expect something more than pragmatism. The risk now is not just of another promising leader falling short, but of demoralizing democracy itself -- and that's a loss that Latin America can ill afford.
(
Corrects name of university where Fujimori received her MBA in seventh paragraph.
)
To contact the author of this story:
Mac Margolis at mmargolis14@bloomberg.net
To contact the editor responsible for this story:
Susan Warren at susanwarren@bloomberg.net
Before it's here, it's on the Bloomberg Terminal.
LEARN MORE