Editorial Board
India's Central Bank Chief Is an Economic Asset
Raghuram Rajan would be a difficult man to replace.
by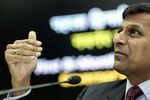 For the past several years, Raghuram Rajan has distinguished himself as the head of India's central bank. He's met opposition along the way, though, and critics don't want him reappointed when his term expires in September. Questions about his fate are now damaging confidence among investors; bonds and the rupee both fell after an unconfirmed report that he'd declined a second term. India's government would be wise to keep him on -- and to declare that intention soon.
Maverick lawmaker Subramanian Swamy, claiming to speak for much of the ruling Bharatiya Janata Party, has taken the lead in demanding Rajan's exit. He says Rajan has kept monetary policy too tight for too long -- and that the central-bank governor isn't "fully Indian." The first charge is wrong; the second is unworthy of discussion.
Rajan, a distinguished University of Chicago scholar and former chief economist of the International Monetary Fund, is best known for anticipating the 2008 subprime lending crisis. His record at the Reserve Bank of India speaks for itself. He took office in September 2013, with the rupee plummeting on fears of higher U.S. interest rates. He stabilized the currency and bolstered India's reserves. The external deficit has been reined in, and inflation has fallen from double digits to 5.4 percent in April 2016. India is currently the world's fastest-growing big economy.
In a country plagued by weak institutions, Rajan has improved the central bank's standing and strengthened the country's financial sector. The RBI, like most of its peers, has adopted a formal inflation target, which makes policy clearer and promotes stability. By licensing several new banks, Rajan has helped widen access to banking services. He's also pressed the biggest banks to deal with bad loans.
Dealing with impaired loans isn't easy and may crimp growth in the short run, but the financial sector as a whole should emerge stronger. Together with a new bankruptcy code, the policy can break a familiar destructive cycle: State banks funnel cheap loans to favored tycoons, then keep the enterprises afloat regardless of performance. 
As inflation has moderated, the RBI has lowered its policy rate, and Rajan has said further easing should follow. To make this possible, he's urged the government to maintain its commitment to fiscal discipline -- and the government complied in its most recent budget. But continued success shouldn't be taken for granted. In a series of speeches, Rajan has been blunt about the reforms India still needs and has lamented what he sees as rising intolerance.
This outspokenness is not universally admired. Yet Rajan's willingness to face up to India's longstanding problems and to critique policy mistakes lends him credibility that many of India's public figures lack. He's a great asset to a reform-minded government, and Prime Minister Narendra Modi would do well to say so now, rather than let the current uncertainty linger.
--Editors: Nisid Hajari, Clive Crook
To contact the senior editor responsible for Bloomberg View's editorials: David Shipley at davidshipley@bloomberg.net .
Before it's here, it's on the Bloomberg Terminal.
LEARN MORE