view
The Jobs Recovery Doesn't Have to End
Workers are available. But weak demand gives employers little reason to hire.
by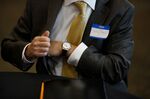 After U.S. employers turned in their worst hiring performance in almost six years, the people responsible for managing the economy must be wondering: Are businesses running up against the limits of how many jobs they can create?
It doesn't have to be that way.
The May jobs report offers troubling signals that the U.S. economy may be nearing its capacity to generate jobs. Nonfarm employers added only 38,000 workers -- a number that, even accounting for a Verizon Communications strike that took about 35,000 people off payrolls, fell far short of expectations. The unemployment rate declined to  4.7 percent, the lowest since November 2007, due to a drop in the number of people seeking work actively enough to be counted as unemployed. That's well below the level that economists see as full employment, the point at which further hiring tends to push up wages and inflation.
To be sure, the jobs data are volatile and subject to revision, so one shouldn't jump to conclusions from one month's data. More important, though, the headline numbers don't tell the whole story. Because the unemployment rate counts only those who have sought work in the past four weeks, it misses millions of jobless who for one reason or another are staying on the sidelines. Employment among people in the prime working years of 25 to 54, for example, remains about 2.8 million jobs short of what would have been considered normal before the 2007-2009 recession.
The crucial question, then, is whether those people will work. If they've given up, or if their skills have irreparably deteriorated, then maybe the damage done by the  recession can't be reversed any further. If better prospects can bring them into the job market, then employers can keep hiring without unduly pushing up wages.
One way to get a sense: Look at the actual monthly flows of people into the labor force. If they're already abnormally low as a share of the population, coaxing more people to join probably won't be easy. If they're within the historical range, there may be hope.
The data are encouraging. Throughout much of the current recovery, a large share of the population has started seeking work after being out of action -- meaning these people went from being classified as "not in the labor force" to "unemployed." That percentage has declined -- to an average of 0.75 percent in the three months through May -- but hasn't fallen below its level at the peaks of the last two economic expansions. Here's how that looks:

Perhaps more promising, a lot of people are going straight from the sidelines into jobs, without even showing up as unemployed. On average in the three months through May, 1.67 percent of the population did so. That's a bit less than in previous months, but still high by historical standards. Here's how that looks:

In short, the evidence suggests that workers are available, if only employers saw enough demand for goods and services to keep hiring. This, together with persistently below-target inflation, supports the case for more ambitious stimulus policies such as infrastructure investment and possibly even direct payments from the central bank to taxpayers. Failing to consider such measures would risk leaving millions of potential workers behind.
To contact the author of this story:
Mark Whitehouse at mwhitehouse1@bloomberg.net
To contact the editor responsible for this story:
James Greiff at jgreiff@bloomberg.net
Before it's here, it's on the Bloomberg Terminal.
LEARN MORE