Latin America
A Teenager's Gang Rape Galvanizes Brazil
With rising violence adding to its woes, the country rallies to improve -- but only while the world is watching.
by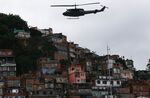 The devastating Zika virus, endemic corruption and a failing economy:  As if these were not miseries enough, now Brazilians are digesting the news of a brutal crime in the hills of Rio de Janeiro just weeks ahead of the summer Olympic Games.
This one was shocking even by Brazil's outsize standards. Last week, a 16-year-old girl was reported gang-raped in a hillside favela, or slum. Some 30 men apparently took turns with the high school teenager, filmed the act and then posted their video on social media. And all this took place just a short drive from some of the city's gleaming new Olympics venues.
How, Brazilians and others asked, could such a vicious attack happen in a city grooming itself to host hundreds of thousands of international visitors attending the world's premier sporting event?
But that's the wrong question.
Yes, the crime has fed the popular narrative about Brazil as a damaged country and heightened calls on Twitter and beyond to cancel or postpone the Rio games, as 150 health authorities proposed last week.
In fact, the real danger -- whether from felons or pathogens -- is not to the country's fly-by guests. Olympians and their fans will have scores of beat police, antiterrorist scouts and a fleet of medics and  ambulances on call to keep them from harm. They'll likely have a grand time.
The larger concern should be about what happens when the party's over. There's plenty of reason to doubt.
Although Rio launched an ambitious crime fighting strategy back in 2008, "pacifying" some 38 neighborhoods known to harbor drug gangs, that crusade seems to be losing momentum.
After plunging sharply through 2015, homicides in the state of Rio spiked 15 percent in the first quarter compared to the same period a year ago. Pushback from brazen drug traffickers is partly to blame, but truculent policing hasn't helped.
For Brazilian women, the worry is magnified. With 4.8 homicides per 100,000 women, Brazil ranked fifth in the world for femicide in 2013. While there are countries in South America where sexual violence is more prevalent, Brazil saw the sharpest increase on the continent, with rapes jumping 171 percent from 2003 through 2012.
In just the state of Rio, 4,725 women were raped in 2014, a 26 percent increase from 2010, according to police statistics.
For many women, however, the criminal assault is only where the ordeal begins. The first police inspector to hear the 16 year-old's saga asked her what clothes she'd been wearing and whether she was in the habit of practicing group sex. He also cast doubt on whether she'd been raped at all. "It's not my womb that hurts, it's my soul," the victim responded on social media.
That's when things started to happen. Shaken by the viral video of the crime and angered over the callous policing, protestors have hit the streets. Suddenly, the authorities stepped up; police arrested two  suspects in the case and are scouring the streets for others. A new inspector has taken over the case and she wasted no time in describing the incident as a rape.
A brutal crime, indolent cops, blaming the victim and then suddenly snapping to attention when the case blows up to be a national scandal: It's a familiar story in Brazil.
Three years ago Fernanda T. (she asked that her full name not be used) told me how she was kidnapped, beaten and raped by three men in a van. When she went to the police, she was kept waiting for hours before a duty officer got around to taking her statement. The forensic examiner didn't have rubber gloves. The infirmary was out of HIV medicine. Then she went home to wait for the phone to ring.  
The break came a week later, after a U.S. tourist was abducted and raped by the same gang. Fernanda immediately contacted the police. By then, with the World Cup months away, and a crime against a foreigner to solve, the authorities were finally listening. The chief of police sent a helicopter to fetch her to take testimony. The three attackers were sentenced to 49 years after a remarkably speedy trial.
"It took a crime against a foreigner to get the police to pay attention to my case and then believe me," Fernanda told me when I rang her this week.
Belatedly, it seems Rio's latest rape victim may get the attention she deserves. After receiving death threats, she was promptly moved from her neighborhood and placed under a witness protection program. How safe Brazilians will be when the world is no longer watching is another question.
This column does not necessarily reflect the opinion of the editorial board or Bloomberg LP and its owners.