Law
Religious Liberty, Continental-Style
Europe's top court has a very different view from the U.S. on what might interfere with doing your job.
by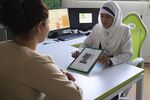 In a decision with far-reaching implications for religious liberty, the European Court of Justice this week allowed employers to ban the wearing of the Muslim headscarf -- as long as they also prohibit all other visible religious symbols in the workplace.
Under U.S. law, the result would almost certainly have been the opposite: a ban on religious symbols in the workplace would violate federal civil rights law in most business contexts. Yet as written, European and U.S. antidiscrimination law are so similar as to be almost identical. What's the difference? And why does it lead to such starkly contrasting results?
Start with the European situation. European Union law prohibits direct discrimination on the basis of religion, as well as indirect religious discrimination, which means the adoption of apparently neutral rules that actually affect people differently on the basis of religion. All member states are obligated to follow these rules.
The European Court of Justice, which decided this week's case, has the power to issue binding decisions that the national courts of the member states must follow. In that sense, an ECJ judgment applying EU law is similar to a U.S. Supreme Court decision applying federal law, which is binding on state courts. 1
The case began in Belgium, where Samira Achibta, long employed as a receptionist at G4S Security Solutions NV, sought to wear her hijab, or headscarf, to the office. The company's employee code of conduct says that its workers "are prohibited, in the workplace, from wearing any visible signs of their political, philosophical or religious beliefs and/or from giving expression to any ritual arising from them."
The opinion was issued by Juliane Kokott, the German advocate general of the ECJ. Kokott analyzed the case by first determining that the company's no-symbols rule wasn't direct discrimination, because it doesn't treat individuals differently on the basis of religion -- all are equally covered.
Kokott then said that the company's rule nevertheless could potentially count as indirect religious discrimination, putting some employees at a disadvantage based on their religious practices.
That brought her to the critical third question of the decision: was the company's rule against religious symbols in the office a "genuine and determining occupational requirement" under EU law? In other words, was it really necessary for the job? If so, then the ban would be lawful, provided it was proportionate to its objective. If not, the ban would be discriminatory.
Here's where things get really interesting. On the surface, the analysis under EU law sounds remarkably close to what the analysis would be under U.S. law. Title VII of the Civil Rights Act prohibits discrimination on the basis of religion. But the U.S. courts have recognized an exception for what's called a "bona fide occupational qualification," or BFOQ.  If the job simply can't be performed by someone because of his or her religion, it isn't discrimination not to hire that person.
The U.S. "bona fide occupational qualification" would seem to be pretty close to the EU's "genuine and determining occupational requirement."
But as it turns out, the two are very different in practice.
Kokott said that the Belgian company's no-symbols rule was a legitimate occupational requirement. As applied to Achibta, Kokott admitted that a receptionist could of course do her job in a headscarf.
But crucially, Kokott said it was within the legitimate rights of the employer to create a corporate identity that was "neutral" with respect to religion. Creating that identity could entail banning all religious symbols.
It's difficult to imagine a U.S. court holding that an ordinary company could legitimately establish an inflexible norm of religious neutrality by banning all religious symbols from the workplace. In some cases, of course, meeting bona fide occupational qualifications might prohibit some religious symbols. If your job is to model your hair at Vidal Sassoon, you probably can't wear a Sikh turban, a hijab, or a yarmulke.
But in reality, U.S. antidiscrimination law places a much higher burden on the employer to justify its policies than EU law.  It even requires employers to make reasonable accommodations for religious employees. Allowing Achibta to wear her hijab at her desk would almost certainly qualify as a reasonable accommodation.
What's fascinating about this result is how virtually the same written rules can produce almost opposite real-world conclusions, based on very different social cultures and beliefs.
In Europe, the idea that the public sphere -- including the workplace – should be basically secular has a powerful hold. The offices of a Belgian company can therefore be treated like French schools, where the headscarf has also sometimes been banned as part of a broader prohibition on the wearing of religious symbols.
In the U.S., no such presumption of strong secularism exists. Americans expect that others may carry their religions with them into their workplaces. Ordinarily, U.S. law protects that right, and obligates employers to take steps to do so, too.
The lesson is that social values matter more than legal doctrine. If you don't like the European solution or the American one, don't criticize the law. Criticize the society that produced it.
In this instance, the ECJ opinion was "advisory," meaning that it indicates the court's preliminary judgment -- similar to a preliminary injunction issued by a U.S. court based on a prediction that one side will prevail on the merits. In theory, these kinds of decisions can be reversed by the same court later. In practice, a court rarely changes its legal analysis.
To contact the author of this story:
Noah Feldman at nfeldman7@bloomberg.net
To contact the editor responsible for this story:
Susan Warren at susanwarren@bloomberg.net
Before it's here, it's on the Bloomberg Terminal.
LEARN MORE