view
There Goes the Fed's Credibility
Low inflation suggests the central bank can't keep its promises.
by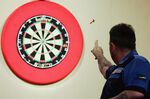 Back in January 2012, the Federal Reserve promised to keep its preferred measure of inflation close to 2 percent over the longer run. More than three years later, that promise remains unfulfilled, casting doubt on the central bank's willingness to deliver.
The latest reading for the measure, known as the price index for personal consumption expenditures, showed annual inflation running at only 1.1 percent in April. Excluding volatile food and energy prices, the inflation rate was 1.6 percent. Here's a chart showing how both have fallen well short of 2 percent for more than three years:

Some would say that central banks are out of ammunition, that the Fed has thrown everything it has at the problem of sub-target inflation and failed to make progress. Actually, though, the Fed has been deliberately tightening monetary policy over the past three years. Just last week, Chair Janet Yellen made a point of saying that the Fed intends to keep raising interest rates in the coming months.
To understand the Fed's motivations, consider this: Would it have started pulling back on stimulus in May 2013 if its short-term interest-rate target had been at 5 percent instead of near zero, and if it hadn't been holding trillions of dollars in bonds? I strongly suspect that the Fed would instead have added stimulus by lowering interest rates. If so, then the Fed's current course is driven not by state of the economy, but by a desire to get interest rates and its balance sheet back to what is considered "normal."
Savers, bankers and many politicians agree with this objective. They want "normal" -- meaning higher -- interest rates. The Fed, however, promised to focus on actual economic outcomes such as inflation, not on those voices. It can't break that promise without undermining people's faith in its willingness to keep promises in the future. This erosion of faith is visible in Treasury bond prices, which suggest that traders have been lowering their expectations of long-term inflation (specifically, annualized inflation for the five-year period starting five years from now):
Some say that investors are just requiring less compensation for bearing inflation risk, rather than expressing expectations of low inflation. Even that, though, should be a troubling signal for the Fed: It suggests that investors doubt the central bank will be responsive in bad times (when growth is low and unemployment is high), allowing inflation to fall so low that regular Treasury bonds will perform a lot better than their inflation-protected counterparts.
Investors' doubts aren't surprising, given the Fed's focus on "normalizing" interest rates rather than on hitting its inflation target. Such concerns will create an extra drag on the economy if and when bad times do come. In other words, the Fed's willingness to renege on its promises seems likely to make the next recession worse than it otherwise would be.
To contact the author of this story:
Narayana Kocherlakota at nkocherlako1@bloomberg.net
To contact the editor responsible for this story:
Mark Whitehouse at mwhitehouse1@bloomberg.net
Before it's here, it's on the Bloomberg Terminal.
LEARN MORE