Editorial Board
Pentagon Should Discharge Its Outdated Promotion Rules
The "up or out" system punishes those who take innovative paths through military service.
by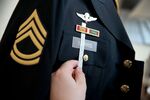 Secretary of Defense Ashton Carter took office last year with a long list of reforms and not much time to undertake them. He has been successful with a few -- notably, opening all combat positions to women -- and now he needs to see through another profound change to Pentagon culture: relaxing the military's strict rules on promotion.
The military operates on an "up or out" principle: Officers are expected to be raised to the next grade on a schedule, and (in general) if they fall behind or are passed over for promotion, they may be allowed to stay in long enough to qualify for a pension but will eventually have to move to civilian life. There are some advantages to this: It provides career stability and a clear route for those aspiring to top command posts. It also keeps the middle ranks from becoming overcrowded, which can prevent young officers from getting ahead.
Unfortunately, this system also hampers unconventional career paths. And as the lines between civilian and military roles become harder to draw, the services need to become more flexible.
The goal should be more military leaders with advanced degrees, fellowships at think tanks, Rhodes or Marshall scholarships, even experience in the private sector. Almost anything that improves someone's technical knowledge should be regarded as a benefit. The military should also make it easier for officers and enlisted troops to take leave in times of family crisis.
Carter delineated many of these benefits in his wide-ranging Force of the Future personnel plan, released last year. But he quickly ran into resistance in the military and in Congress. At a hearing in February, John McCain, chairman of the Senate Armed Services Committee, called the proposals "expensive fringe benefits" that the military could not afford.
In fact, the opposite is true: The Pentagon cannot afford not to make these changes. Unfortunately, their prospects took a sharp turn for the worse when Brad Carson, a former House member serving as the Pentagon's point man on personnel matters, resigned in March. Carson had incurred the wrath of Congress by starting his job before the Senate confirmed him, creating an unnecessary distraction.
Carter needs to show that Carson's resignation is not a sign that the Pentagon is giving up on these changes to its personnel system. The defense secretary has already assured the heads of the service branches that they can shape new promotion rules to suit their needs. Undoubtedly, more persuasion will be necessary, but Carter must continue pressing the military to change -- for its own good and for the good of the nation's security.
--Editors: Tobin Harshaw, Michael Newman.
To contact the senior editor responsible for Bloomberg View's editorials: David Shipley at davidshipley@bloomberg.net .
Before it's here, it's on the Bloomberg Terminal.
LEARN MORE