Share the View
Capital Flow Is an Ominous Sign for Greece
A daily digest of opinions and analysis from Bloomberg View.
by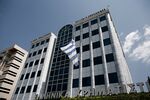 European Money Doesn't Like Greece
The latest Greek bailout deal may keep the country from plunging into crisis, but Mark Whitehouse says it won't bring back the capital the country needs to recover. Unfortunately, investors still have good reason to keep their euros parked elsewhere.  
Understanding the Global Rise of Demagogues
Whether it's in India, the Philippines, the United States or Austria, far-right populists are having a moment. Pankaj Mishra says the threat is worth taking seriously -- especially by elites who've ignored mounting frustrations with the status quo. 
Tunisia's Secular Approach to a Spiritual Goal
In the birthplace of the Arab Spring, an organization inspired by the Muslim Brotherhood has split in two: a party for politics and a movement for Islamic identity. Noah Feldman analyzes this unprecedented and encouraging move.
Trump's Backward Leap on Energy
Donald Trump may tout himself as an outsider, but when it comes to energy policy, he puts insiders' needs first. As Paula Dwyer explains, his plans are designed to protect special interests from the free market.
Ritholtz's Reads
Wall Street's new balance sheet is an ETF (Gadfly)
Corporate America chases the mythical millennial (NYT)
Higher taxes don't scare millionaires into fleeing their homes after all (Bloomberg)
(Read Barry Ritholtz's full daily news roundup.)
Bloomberg Gadfly 
(Read more from BV's sister site for fast business commentary.)
Get Share the View every morning in your inbox. Click here to subscribe.
To contact the author of this story:

Before it's here, it's on the Bloomberg Terminal.
LEARN MORE