view
Could Banks Down Under Go Under?
A daily digest of opinions and analysis from Bloomberg View.
by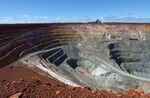 In Australia, All That Glitters Isn't Gold
It may seem to be in ruddy economic health, but Satyajit Das says Australia's financial sector is on shakier ground than many realize. And as long as the banks remain dependent on a debt-fueled property market and a now-slowing natural resources sector, he says, the entire country will be at risk.
Why Netflix Isn't a European Company
Digital behemoths require borderless commerce to grow, and Europe -- despite its best efforts -- just can't oblige. Leonid Bershidsky points to the EC's recent Digital Single Market proposals to show how the simple act of providing video-on-demand becomes infinitely complex once European bureaucrats are involved.
Central Banks Can't Go It Alone Anymore
It's been clear from some time, Mohamed A. El-Erian says, that advanced countries must remove structural impediments to growth. Fortunately, policy makers are starting catch on -- but a new mindset won't mean much without swift action.
Trump and Clinton Can (Mostly) Be Trusted
They may not have stellar reputations for honesty, but take the candidates at their word -- at least when they're making promises now, Albert R. Hunt says. Research and recent history show U.S. presidents rarely renege on their campaign commitments once they've made it to the White House.
Ritholtz's Reads
(Read Barry Ritholtz's full daily news roundup.)
Get Share the View every morning in your inbox. Click here to subscribe.
To contact the author of this story:

Before it's here, it's on the Bloomberg Terminal.
LEARN MORE