White House
For Obama, Human Rights Begin at Home
A cold realist in Vietnam and Cuba, he warms to freedom at home.
by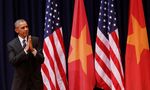 First Cuba, now Vietnam.
President Barack Obama drew the U.S. closer to Vietnam this week, traveling to Hanoi and lifting a decades-long U.S. ban on military sales to the communist regime and strategically located former foe. Human-rights advocates were not inspired.
"Vietnam has demonstrated itself that it doesn't deserve the closer ties the U.S. is offering," said John Sifton, Asia advocacy director for Human Rights Watch, to the Washington Post. In an open letter to Obama, Human Rights Watch called Vietnam a "police state" that is "among the most repressive" governments in the world.
Obama's landmark visit to Cuba in March produced similar consternation over the Castro regime's long history of oppression while also providing eager conservatives with an opportunity, not to be missed, to use the words "Obama" and "Che" in the same sentence.
As his administration nears its conclusion, and his own presidential legacy begins to acquire form, Obama isn't exactly knocking himself out on the human-rights front. At least not as "human rights" are generally understood by Americans -- that is, a topic on which American presidents lecture other countries.
In the insightful and extraordinary series of interviews Obama conducted with Jeffrey Goldberg of the Atlantic, the president laid down some of the markers that guide, and constrain, his conduct. He called himself "an idealist insofar as I believe that we should be promoting values, like democracy and human rights and norms and values, because not only do they serve our interests the more people adopt values that we share -- in the same way that, economically, if people adopt rule of law and property rights and so forth, that is to our advantage -- but because it makes the world a better place."     
A presidential "but" quickly followed.
"Having said that," he continued, "I also believe that the world is a tough, complicated, messy, mean place, and full of hardship and tragedy. And in order to advance both our security interests and those ideals and values that we care about, we've got to be hardheaded at the same time as we're bighearted, and pick and choose our spots, and recognize that there are going to be times where the best that we can do is to shine a spotlight on something that's terrible, but not believe that we can automatically solve it.
Obama's cold realism abroad, overlooking oppression in pursuit of national interest, is contrasted by his steady investment in human rights at home.
Last year, his administration filed a brief in the Supreme Court in support of gay marriage, arguing that state bans on same-sex marriage were "incompatible with the constitution." This month, the administration released new rules to accommodate transgender kids in school. "I think it's part of our obligation as a society to make sure everybody is treated fairly and our kids are all loved and protected," Obama told Buzzfeed.
Likewise, by opening up higher education, and work opportunities, to the sons and daughters of undocumented immigrants living in the U.S., Obama has expanded freedom and enlarged human capacity in the U.S.   
Speaking in Vietnam, Obama acknowledged that the U.S. still has a distance to go, citing "inequality, racial bias in criminal justice, women not paid as much as men."
Throughout his presidency he has insisted both that progress must be made in such areas, and that it will be. In his 2015 speech in Selma, Alabama, commemorating the 50th anniversary of Bloody Sunday on the Edmund Pettus Bridge, Obama cast human rights as a constantly evolving project.  
What greater expression of faith in the American experiment than this; what greater form of patriotism is there; than the belief that America is not yet finished, that we are strong enough to be self-critical, that each successive generation can look upon our imperfections and decide that it is in our power to remake this nation to more closely align with our highest ideals?"
A jingoistic strain of American exceptionalism all but implies American perfectionism, from the Founders on. Obama's definition is about a journey that gets incrementally better, shedding original sins as it collects, and enfolds, the previously marginalized -- black, gay, women, transgender -- through history.
"That's what it means to love America," Obama said in Selma. "That's what it means to believe in America. That's what it means when we say America is exceptional."
Obama's recent diplomatic ventures may not convey much faith in the ability of Cuba or Vietnam to honor human rights. But he's been consistently adamant about what America can do to set the standard.
To contact the author of this story:
Francis Wilkinson at fwilkinson1@bloomberg.net
To contact the editor responsible for this story:
Katy Roberts at kroberts29@bloomberg.net
Before it's here, it's on the Bloomberg Terminal.
LEARN MORE