Editorial Board
Trump's Golf Course Believes in Global Warming
There are 18 holes in his climate change denialism.
by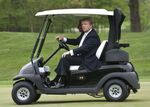 Donald Trump says he'll run the country the way he runs his business -- which sounds more like a threat than a boast. At least when it comes to climate change, he ought to keep his word.
Trump has long aligned himself with climate change deniers, calling the issue a "hoax" and worse. But in Ireland, Trump International Golf Links has asked to build a sea wall to protect a waterfront resort against "global warming and its effects." So which is it? 
A politician talking out of both sides of his mouth hardly qualifies as news, but Trump's recognition of the threat climate change poses to his business is noteworthy because it mirrors a growing consensus within the private sector.
A new report by the World Bank finds that by 2050, natural disasters related to climate change will threaten 1.3 billion people -- and $1.6 trillion in economic assets. Over the past several years, business leaders have increasingly started to assess their exposure to these risks and press for bolder government actions to mitigate them.
Whether it's climate change or market volatility, hedging against risk is standard practice in the business world. No executive or board of directors can afford to ignore variables that carry potentially catastrophic consequences for their holdings. Whatever their personal political views, preparing for and mitigating climate change is simply smart business.
Trump recognizes that in Ireland. It would be nice if he'd acknowledge it in America, too.
--Editors: Francis Barry, Mary Duenwald
To contact the senior editor responsible for Bloomberg View's editorials: David Shipley at davidshipley@bloomberg.net .
Before it's here, it's on the Bloomberg Terminal.
LEARN MORE