National Security
The Anti-Democratic Temptation of the Foreign-Policy Experts
There's a fringe in conservative policy making that wants to get the politicians out of the process.
by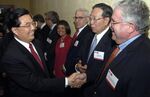 American foreign policy is in trouble. There are career diplomats, military officers, spies and analysts who understand the world. And there are politicians, journalists and advocates who don't. Sadly, the knowledgeable serve the know-nothings and the ship of state careens in folly.
This is the considered view of former U.S. ambassador to Saudi Arabia, Chas Freeman, who spoke Wednesday at a conference on American statecraft sponsored by the Charles Koch Institute.
Full disclosure: I have taken an interest in Freeman since he was considered in 2009 for the post of chairman of the National Intelligence Council. When he ended up withdrawing his name, he released a statement accusing "unscrupulous people with a passionate attachment to the views of a political faction in a foreign country" of smearing his good name. (Wonder what country that is?)
I suppose I had a small role in what Freeman considered to be his smearing. At the time I pointed out that he was the head of a charity that had received substantial funding from the Saudi royal family and that he had served on the board of a Chinese national oil company. While plenty of former diplomats consult for foreign governments (see Kissinger, Henry), it's bizarre when a person with financial attachments to foreign countries accuses his critics of the passionate variety.  
Since Freeman's flameout, the former ambassador has become a cult figure for the crowd who think it's brave and interesting to denounce the pro-Israel lobby and whine about the politicization of foreign policy.  At Wednesday's conference, Freeman stuck with this later theme. He said the leaders of the State Department were "amateurs" and that the "upper levels of our diplomatic service is entirely politicized." He recommended the U.S. adopt a model similar to European countries that limit political control over their respective diplomatic corps.
Freeman says he would like to get the politicians out of foreign policy because he thinks they subscribe to so many false narratives. These include the "the idea that inside every Arab there is some kind of liberal democrat waiting to come up," he said. The corollary to this, Freeman said, is the notion that "if we kick the natives hard enough they will turn into Canadians."
So what does Freeman recommend to members of the national security state today to resist this tendency? To start, he says, "You can't confront the narrative publicly when in government service," noting that you will be subjected to "discipline." Instead, Freeman recommends, "You can argue in classified correspondence," adding that a dissident diplomat or analyst can collect intelligence to "correct mistaken narratives and views."
This is particularly rich coming from Freeman. After all, the anti-Israel crowd is forever complaining about how pro-Israel Americans seek to stifle public debate. As Freeman himself wrote in his 2009 statement, "the aim of this Lobby is control of the policy process through the exercise of a veto over the appointment of people who dispute the wisdom of its views, the substitution of political correctness for analysis, and the exclusion of any and all options for decision by Americans and our government other than those that it favors."
More than seven years later, Freeman is advising younger diplomats to shield their views altogether from the public and recommending the weakening of any political control over the State Department.
So it's not surprising that a man who doesn't like the democratic process at home also doesn't like U.S. democracy promotion abroad. He said for example that political elites believe in regime change, which he said encompassed not only military invasions and covert action but also the work of nongovernmental organizations. This observation about do-gooder NGOs echoes a persistent complaint from Russian president Vladimir Putin. He says the work of (U.S.-supported) democracy-promotion outfits constituted a soft coup in Ukraine in 2014 when Ukrainians took to the streets to protest their leader's decision to back out of an agreement to join the European Union.  Freeman appears to agree with Putin on Ukraine, which he said should be both a "buffer and bridge" between Europe and Russia.  
There is an irony in all of this. While Freeman was dismissive of the current election cycle, calling it a "confusing shambles," on some important issues he is very close to the ultimate foreign policy amateur, Donald Trump. Trump doesn't know what the nuclear triad is and has floated the idea that maybe Japan should be allowed to have nuclear weapons. And yet Trump and Freeman agree that it's worth integrating Russia into the security infrastructure of Europe and that it is folly to support Middle East democracy.
These views should be vetted during the election and debated in Congress and the executive branch. Freeman would rather avoid that debate altogether. One wonders if he will change his tune if Trump is elected president. Perhaps for once the democratic process will yield a result that will end up pleasing people like Chas Freeman.  
To contact the author of this story:
Eli Lake at elake1@bloomberg.net
To contact the editor responsible for this story:
Philip Gray at philipgray@bloomberg.net
Before it's here, it's on the Bloomberg Terminal.
LEARN MORE