Labor
Don't Count Out Texas Just Yet
Growth in other industries is taking up a lot of the slack caused by the oil bust.
by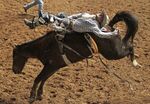 Early last year, a few months after oil prices began to collapse, employment growth in Texas followed suit. By October, the state's 12-month employment growth rate dipped below the national growth rate for the first time since 2003:

So no, the "Texas Miracle" is no longer leading the way for the national economy. Among the 10 biggest states by population, Georgia, Florida, California, Michigan (!) and North Carolina are now the ones adding jobs at a faster pace than the nation as a whole. And Texas politicians, who had gotten accustomed to big annual gains in tax revenue, now face tougher choices, Bloomberg's Darrell Preston wrote last week.
Texas's senate leaders on May 3 told state agencies to expect leaner times ahead. Joe Straus, the Republican speaker of the House of Representatives, said in a letter to colleagues last month that they'll have to contend with the impact of lower oil prices when they gather in January to begin work on the next two-year budget. Since the fiscal year started on Sept. 1, the state's sales tax collections have dropped 2 percent from a year earlier to about $18.7 billion, according to Comptroller Glenn Hegar's office.
Still, as you can see from the above chart, which is based on state employment data released today by the Bureau of Labor Statistics, things do seem to have stabilized a bit on the job front since late last year. When you slice things by major metropolitan area, in fact, it's clear that much of the state is still creating jobs at a healthy pace. It's mainly just Houston, the headquarters of the global oil and gas industry, that has been struggling.

Even in the Houston area, which has lost more than 53,000 oil-and-gas and manufacturing jobs since late 2014, gains in other job categories have so far kept overall employment from falling -- although average wages have dropped a bit.
When I was in Houston last week, there was lots of worried yet hopeful talk about whether the city had diversified its economy enough to avoid the kind of wipeout it experienced when oil prices collapsed in the 1980s. It probably has, although things could still be pretty tough for a couple of years. The rest of Texas, though, doesn't seem to have a problem.
To contact the author of this story:
Justin Fox at justinfox@bloomberg.net
To contact the editor responsible for this story:
James Greiff at jgreiff@bloomberg.net
Before it's here, it's on the Bloomberg Terminal.
LEARN MORE