Economy
U.S. Rig Numbers Say Growth Can't Keep On Truckin'
Falling truck orders are one sign the world's biggest economy may stall.
by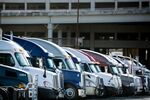 A couple of months ago, I looked through the data on goods being shipped across the world's oceans and reached the conclusion that the various indexes were signaling bad news for the global economy. A reader suggested taking a similar look at what's happening on the highways of North America, particularly with regard to demand for trucks used to haul goods around the country. The numbers suggest hauliers in the world's biggest economy aren't exactly bursting with optimism about the outlook.
The website truckinginfo.com says U.S. fleet operators have "no additional need for capacity, and that "the market may not have bottomed out yet as activity is expected to remain soft during the slower summer order season." 
Orders for Class 8 trucks -- vehicles with gross weight ratings exceeding 33,000 pounds (15,000 kilograms) -- slumped to their lowest level in six years in April, after dropping 16 percent in the month and by 39 percent in the past year. Operators ordered just 13,500 new vehicles last month, down from a peak of almost 46,000 in October 2014:  

"Class 8 orders were once again below expectations with the downshift in order activity continuing," said Don Ake, vice president of commercial vehicles at FTR Associates, a transportation research company that compiles the date on orders, told truckinginfo.com. "It looked like the market was going to stabilize, but this order volume is surprisingly low."
Truck operators are also seeing earnings for transporting goods start to weaken. In November 2014, they enjoyed almost a 6 percent jump in revenue per loaded mile on an annualized basis. By February of this year, that had dropped to less than 1 percent. If the trend continues, it won't be long before moving freight on the highways of North America will be cheaper than it was a year earlier:

Falling demand in truck transport can have multiple causes -- the dollar value of exports by truck to Canada declined almost 25 percent between October 2014 and February 2015, in part due to a weaker Canadian dollar and a weak economy. But truckmakers are not alone in experiencing falling demand. Greg Peterson runs a research firm under the moniker Machinery Pete, collating data from auctions of second-hand farming equipment to give a snapshot of the health of the market for agricultural machinery. Used farm equipment prices dropped by a third between first quarter of 2013 and the final quarter of 2015, according to the index Peterson compiles. Here's how prices have fared in the past decade and a half:

Note the modest rebound in the first quarter of this year, which still leaves prices near their lowest level in a decade. Peterson says that bounce is "perhaps one of the biggest surprises I've seen in my 26 years tracking used farm and construction equipment values." He said in his newsletter that prices have fallen far enough to tempt buyers, while inventories have gotten so swollen that sellers are holding more auctions:
Farmers pay close attention. I think they realized the situation: used values on late-model equipment had fallen a long way and the number of machinery auctions is up, dealers are working hard to move excess used equipment, so add it all up and if you can swing it, now in 2016 is a great opportunity to upgrade into some great, late-model, used equipment that is priced attractively.
The biggest game in financial markets at the moment is trying to work out whether the Federal Reserve will introduce rate increases this year and how many. The economic backdrop is even cloudier than usual, as my colleague Mohammed El-Erian detailed in an article on Monday.
In these uncertain economic times, I'm becoming a fan of real-world data, as opposed to predictions for growth or inflation or any of the other measures of output and activity that seem less and less reliable as precursors to the future. On that basis, higher borrowing costs in the world's largest economy would appear to be a policy mistake that the Fed should avoid.
To contact the author of this story:
Mark Gilbert at magilbert@bloomberg.net
To contact the editor responsible for this story:
Therese Raphael at traphael4@bloomberg.net
Before it's here, it's on the Bloomberg Terminal.
LEARN MORE