view
Clinton Plans to Use the Iran Playbook on North Korea
Getting nuclear talks started will require pressuring nations that do business with Pyongyang.
by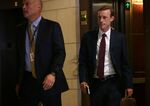 One of Hillary Clinton's top priorities as president would be to use sanctions to pressure North Korea to negotiate limits on its nuclear program, according to Clinton's top foreign policy adviser. The strategy would mimic the Obama administration's approach to Iran.
Jake Sullivan, the head of the Clinton campaign's foreign policy advisory team, was one of two officials who began secret negotiations with Iran in 2012 that eventually resulted in the nuclear agreement that Iran struck last summer with six world powers. He told an audience Monday evening at the Asia Society in New York that Clinton is planning a similar strategy to deal with North Korea's nuclear program.
"This is a paramount security challenge of the United States. It will have to be right at the top of the agenda for the next president to deal with," he said. "It's hard for me to underscore how important it is that we place urgency behind this."
The only way to get North Korea to negotiate in good faith about its nuclear program, he said, will be to drastically increase pressure on the already heavily sanctioned regime. The international sanctions imposed on Iran before negotiations provide a rough model.
 "Those negotiations were set up by a comprehensive, highly tailored, highly resourced effort that involved basically every significant economy in the world getting together and putting real pressure on that regime in a concentrated, sustained way," Sullivan said. Like in Tehran, the North Koreans' "expectations and understanding of their choices need to be reshaped."
While she was secretary of state, Clinton actually opposed several of the sanctions that Congress passed to increase pressure on Iran, including the sanctions on Iran's central bank, which are widely credited with crippling Iran's economy. Clinton actively supported United Nations sanctions against Iran at that time. She often takes credit on the campaign trail for building the sanctions regime that eventually brought Iran to the table.
Clinton and Sullivan are skeptical that North Korea will ever give up its nuclear weapons program completely. North Korea has conducted four nuclear tests since 2006. The regime is amassing nuclear weapons material and could have enough for 79 nuclear bombs by 2020, according to leading nuclear experts. The Iran deal that Sullivan helped negotiate has been criticized for leaving a significant portion of Iran's nuclear infrastructure intact.
China will have to be part of the strategy to increase pressure on North Korea, Sullivan said. He did not say directly that Clinton would use sanctions to pressure China to pressure Pyongyang, but he noted that the Obama administration recently signed an executive order that allows for sanctions on countries that do business with North Korea, known as "secondary sanctions," and that Congress passed a bill this year that authorizes sanctions against any entity that aids North Korea in nuclear, trade or human rights abuses.
"This has to be one of the first and most important pieces of business in the first summit between the next president and Xi Jinping," he said.
Responding to questions, Sullivan criticized several statements by Clinton's likely general election opponent Donald Trump. Trump's statements on foreign policy are often ill informed and contradict themselves, he said, adding that several of Trump's policies could lead to instability and risk of conflict around the world.
"The ideas he's putting forward and the temperament that he has displayed make him a dangerous proposition to be commander-in-chief," said Sullivan.
Sullivan also weighed in on the New York Times Magazine profile this month of Ben Rhodes, President Obama's deputy national security adviser for communications. Sullivan rejected the contention by the article's author David Samuels that the Iran deal was part of a larger effort to create space for the U.S. to disentangle itself from the system of alliances with Gulf states including Saudi Arabia.
"That is an inaccurate caricature," he said. "That along with a number of other aspects of that article got it pretty wrong."
While defending the Obama administration's foreign policy, Sullivan also made it clear that if Clinton is elected, several of Obama's stances on international issues will be reversed. He said Clinton supports safe zones in Syria and more support for the opposition, a new commitment to Gulf allies, and a more permanent and comprehensive international effort to fight terrorism.
On economics, Clinton may be running on the Obama legacy. But on foreign policy, she is already planning a distinctly more assertive role for the U.S. abroad.
To contact the editor responsible for this story:
Philip Gray at philipgray@bloomberg.net
Before it's here, it's on the Bloomberg Terminal.
LEARN MORE