view
Career Education for the Internet Age
A daily digest of opinions and analysis from Bloomberg View.
by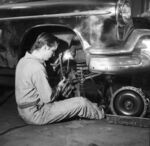 The Skills U.S. Schools Aren't Teaching, But Must
Economic growth depends on having a strong middle class open to everybody, not just college graduates. That's why high-quality vocational education is crucial. Michael R. Bloomberg and Jamie Dimon imagine a world where K-12 job training doesn't start and end with shop class.
Shorthanded Supreme Court Ducks the Big Questions 
The U.S. high court is spewing out lots of little technical decisions as it waits for Antonin Scalia's vacancy to be filled, carefully avoiding a contentious four-four split. Noah Feldman explains why the justices played small ball in no fewer than half a dozen opinions on Monday.
How to Move Americans Out of Poverty
Mobility has long been a key to prosperity, but for many Americans -- especially those in the poorest communities -- it's impossible to rent a U-Haul and go where the opportunity is. But if bad public policy keeps people trapped in impoverished neighborhoods, good policy can help. The Bloomberg View editorial board has a few suggestions how.
Two Questions for Hillary Clinton About the Fed
The Democratic front-runner has taken welcome steps to clarify her views on the Federal Reserve, but Narayana Kocherlakota says her positions on inflation and "bankers" still need some explaining.
China's Self-Defeating Clampdown on Multinationals
China recently shut down two major Apple services and denied the company the trademark for "iPhone" (which is great news for Beijing-based Xintong Tiandi Technology, which also sells "IPHONE" products). Noah Smith says it's part of a larger effort to give Chinese companies a leg up over foreign competitors -- and it's likely to backfire.
Ritholtz's Reads
(Read Barry Ritholtz's full daily news roundup.)
Bloomberg Gadfly 
(Read more from BV's sister site for fast business commentary.)
Get Share the View every morning in your inbox. Click here to subscribe.
To contact the author of this story:

Before it's here, it's on the Bloomberg Terminal.
LEARN MORE