2016 Elections
Two Questions for Clinton About the Fed
Her positions on inflation and "bankers" need some explaining.
by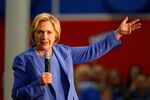 Democratic presidential candidate Hillary Clinton has offered some much-needed detail about how she would handle the Federal Reserve, an institution with immense influence over the U.S. and global economy. Her plans, though, leave some key questions unanswered.
In a statement to the Washington Post, Clinton took two notable positions:
She is fully in favor of the Fed's dual mandate to promote price stability and maximum employment. She will defend it if necessary (presumably against legislative attempts to change it), and she intends to appoint Fed governors who support it.
She supports what she calls "common-sense" reforms, such as removing "bankers" from the boards of the Fed's network of regional reserve banks.
Her ideas, which are largely in line with those of the activist group Fed Up, represent a great first step in enhancing the public's understanding of her vision for the central bank. That said, they could use some clarification.
Consider the dual mandate. It's generally understood to require the Fed to tolerate periods of above-target inflation in order to get the unemployment rate down to a desirable level. For most of the past seven years, though, inflation has been below the central bank's 2 percent target, and is likely to stay that way for years to come. Meanwhile, the unemployment rate -- at 5 percent -- is very close to the level that Fed officials see as consistent with maximum employment. Hence, the crucial question: Would Clinton want Fed governors who would tolerate below-target inflation in order to keep the unemployment rate from falling too far?
"Yes" would seem a strange answer: Who would want to keep people out of work if excessive inflation isn't an issue? Yet this is precisely what several Fed officials have suggested, saying that the central bank should tighten policy (by raising interest rates) solely because the unemployment rate is low. Indeed, Vice-Chair Stanley Fischer specifically observed that the Fed might be more accommodative were it not bound by the maximum employment mandate.
Another issue is what Clinton means by the word "bankers." Representatives of the nation's largest financial institutions can and occasionally do serve on the boards of reserve banks. I completely agree that this is an unseemly and potentially problematic practice, given the opportunities it appears to create for such executives to influence Fed policy to the benefit of big banks. In my view, Congress should amend the Federal Reserve Act to bar anyone affiliated with a large financial institution (assets above $10 billion) from serving on reserve bank boards of directors.
That said, the vast majority of bankers who serve on reserve bank boards are from relatively small institutions. These banker-directors don't vote on issues related to supervision and regulation, including the appointment of reserve bank presidents. They do vote on the discount rate recommendations that get sent to Washington for final approval. This provides the Fed's Board of Governors with valuable information on how their decisions will affect community banks, helping ensure that monetary policy is not made in some kind of Beltway-Wall Street echo chamber.
The 1913 Federal Reserve Act intentionally created this connection between community banks and monetary policy. In January 2015, Congress nearly unanimously saw fit to strengthen it, mandating that a person with community banking experience always serve on the Board of Governors in Washington.
So when Clinton says that she doesn't want bankers, does she mean to include representatives of institutions with less than, say, $10 billion in assets? I, for one, would be highly opposed to severing a relationship that helps the Fed make policy for the benefit of all Americans.
To contact the author of this story:
Narayana Kocherlakota at nkocherlako1@bloomberg.net
To contact the editor responsible for this story:
Mark Whitehouse at mwhitehouse1@bloomberg.net
Before it's here, it's on the Bloomberg Terminal.
LEARN MORE