view
Europe Should Revisit a Gas Tax for Refugees
A tiny levy would help ease the migrant crisis and benefit the environment.
by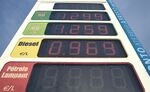 The International Energy Agency on Thursday raised its 2016 forecast for crude-oil demand and noted that stocks are no longer building up as fast in the developed world. The oil glut is beginning to subside, and crude prices are up. If the trend holds, Europe could miss a great opportunity to address two pressing issues: financing a smart solution to the refugee crisis and reducing fossil fuel consumption.
QuickTake Europe's Refugee Crisis
In January, Finance Minister Wolfgang Schaeuble of Germany proposed a coordinated, Europe-wide fuel tax to fund the effort to help refugees and at the same time secure the European Union's external borders. He didn't say how high the tax would be, perhaps because it wasn't clear how much money was necessary. Valdis Dombrovskis, vice president of the European Commission, backed the proposal, but it didn't gain much traction beyond that. Prime Minister Matteo Renzi of Italy, for example, said debt financing would be a better solution. Even within Schaeuble's own CDU party, there was vocal opposition. The party's vice president, Julia Kloeckner, criticized the plan as politically insensitive and a signal to taxpayers that the refugees were an extra problem they had to take care of.
It's a shame the idea didn't take off. European governments should go back to discussing it while they still can.
One reason is that the costs of resolving the crisis wouldn't require an inordinately high tax. There's the 3 billion euros ($3.4 billion) that Turkey is demanding to keep its end of a bargain reached in March that has all but stopped the influx of refugees by the Balkan route, which most of them followed last year. There are the costs involved in beefing up the European border security agency, Frontex, whose budget was bumped up to 238 million euros from 143 million in 2015. And there are the costs of receiving and settling the refugees who do reach Europe, about 10,000 euros per year per person. 
All in all, based on 1 million refugees a year, the cost would be about 14 billion euros continent-wide, including the one-time payment to Turkey, which probably won't be the last. The International Monetary Fund estimated in January that the immediate fiscal costs of accepting the refugees would be 0.1  percent of the EU's economic output -- about 19 billion euros. 
Europe consumes 1.5 million tons of crude a day, approximately equivalent to 470.8 billion liters (124.3 billion gallons) of gasoline. A tax would need to add only about 3 or 4 euro cents per liter (12 to 16 euro cents per gallon) to the price of gas. This, of course, is an approximate number because not oil is consumed as gasoline, but even if only automobile fuel were taxed, the levy would still be quite small. 
The other reason is that Europe's fossil fuel consumption is still way too high (it has increased this year because of the lower prices). Taxing fuel consumption would help Europe meet its commitments under the climate goals agreed to at the Paris summit last year. "Although the cost would be paid by the consumer, in the long run a properly functioning approach at the European level would save money," Guntram Wolff of the Brussels think tank Bruegel wrote in a recent article. 
Germany already has some impressive achievements in the field of clean energy -- last Sunday, so much wind and solar energy was produced in the country that consumers were actually paid for using it. Other European nations, with the exception of Scandinavian ones, cannot boast of anything similar, though, and the added discipline of an increased fuel tax would help to push them to clean up their act.
It's politically difficult, however, to impose even a small fuel tax when oil prices are rising, and the price of Brent crude is already up 68 percent from its January trough. In full accordance with Saudi Arabia's plan, U.S. crude production is shrinking: It was down to the September 2014 level in the first week of May. The lack of investment in the oil industry is working to shrink the supply, and demand is growing faster than expected in Asia, especially in India. Prices are likely to rise some more despite Saudia Arabia, Russia and Iran pumping for all they're worth.
Now, however, the oil price is still below $50 a barrel, and consumers may not be too unhappy with a few extra cents tacked onto their gas bills. The chance for European politicians to look at Schaeuble's reasonable proposal is still there.
(
Corrects the price-per-gallon conversion figure in sixth paragraph of article published May 12.
)
To contact the author of this story:
Leonid Bershidsky at lbershidsky@bloomberg.net
To contact the editor responsible for this story:
Max Berley at mberley@bloomberg.net
Before it's here, it's on the Bloomberg Terminal.
LEARN MORE