Share the View
Donald Trump's Love Affair With Debt
A daily digest of opinions and analysis from Bloomberg View.
by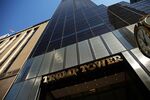 President Trump, King of Debt
Donald Trump may flip-flop on a near-daily basis, but his thinking on one issue has remained constant for decades. Timothy L. O'Brien traces the Republican's 30-year history of gorging on debt, and considers how that might translate into economic policy. (Hint: Poker night at the Treasury!)
Attention, Investors: Repackaged Ideas Aren't 'Disruptive'
BuzzFeed, LendingClub and Uber have the same problem: They're all old-school businesses with old-school business models. Leonid Bershidsky argues that many startups with reputations as tech innovators owe it all to savvy marketing.  
How the Federal Reserve Made the Poor Poorer
The central bank's policies have affected inequality, but not in the way its detractors think. Narayana Kocherlakota explains why recent monetary policy has left low-income families hurting the most.
So Maybe Facebook Has a Liberal Bias. Relax, Congress. 
After former Facebook contractors alleged the site suppresses conservative news, Republican Senator John Thune had pointed questions for Mark Zuckerberg. Megan McArdle says that little good will come from lawmakers meddling with the media -- but notes the situation poses a quandary for liberals.
A Nasty Split in U.S. Courts Over Human Rights
On Tuesday, one federal bench broke with the rest to block lawsuits against corporations for violations abroad. Noah Feldman lays out what the divisive ruling means for human rights litigation in U.S. courts.
Bloomberg Gadfly 
(Read more from BV's sister site for fast business commentary.)
Get Share the View every morning in your inbox. Click here to subscribe.
To contact the author of this story:

Before it's here, it's on the Bloomberg Terminal.
LEARN MORE