Editorial Board
Change the Philippines Doesn't Need
Apparent president-elect Rodrigo Duterte is crude, bombastic and unpredictable.
By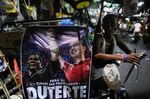 Like Donald Trump, to whom he's often compared, the Philippines' apparent president-elect Rodrigo Duterte won over voters with a crude and bombastic persona -- or, if you will, his big mouth. What the country he may soon inherit needs most, however, is a steady hand.
Duterte, a mayor who has proudly advertised his links to vigilante death squads in Davao City and threatened a "bloodbath" for criminals once he's in power, has tapped into a deep vein of frustration with the political status quo. In truth, though, the Philippines are in better shape than they've been in for years. The country is forecast to grow faster than its neighbors this year, aided by low oil prices and continued healthy consumption. Remittances are strong, while a booming outsourcing sector could soon replace them as the country's largest source of dollar revenues.
Outgoing President Benigno Aquino can't take credit for all this good fortune. But he's unquestionably leaving the country on a stronger footing than he found it six years ago. The Philippines, the former "sick man of Asia," now boasts a current account surplus, an investment-grade credit rating, improved competitiveness and steady growth in foreign investment. Aquino has gone after tax cheats and scored notable victories against official corruption.
Aquino, the son of former President Corazon Aquino, is a likable but diffident leader. He has built his record on sober and unflashy reforms. His successful efforts to widen the tax base have helped shrink the budget deficit. Changes such as introducing online bidding for government contracts helped convince ratings agencies to give the country its first investment-grade rankings. He's rolled out a cash-transfer program for the poor and boosted infrastructure spending to around 5 percent of gross domestic product this year.
Certainly growth hasn't trickled down enough: A quarter of Filipinos still live in poverty, and Manila's crumbling and traffic-choked roads remain a nightmare. But change will require patient work and coalition building. Duterte will need Congress's help if he wants to pursue land reforms that would spread growth beyond Manila, or if he's to open up more sectors of the economy, including mining, to greater foreign investment. He can't fix the power sector -- critical if the country is to build up its manufacturing industries -- on his own. Yet much like Trump in the U.S., Duterte has done nothing to improve his standing among legislators, whom he largely derided during the campaign as "trapos," or traditional politicians sucking the country dry.
Geopolitically, his election comes at a fraught moment. A U.N. tribunal is set to rule soon on a case the Philippines brought against China's expansive maritime claims in the Spratly Islands chain. Even as the Philippines has welcomed U.S. military forces back to its shores for the first time in decades, Duterte has issued provocative and contradictory policy statements -- in one breath threatening to ride a jet ski out to a disputed reef to plant the Philippine flag, in another offering to negotiate concessions with China in return for infrastructure investment. Either move would undermine U.S. efforts to build regional support for the rule of law in the South China Sea.
As Indonesia's President Joko Widodo, himself a successful former mayor, might attest, skills that are effective locally don't always translate at the national level. A single figure, no matter how determined, can't dictate outcomes the way he or she might in a city or town. What Filipinos need from their next leader isn't brute strength but consistency and pragmatism, to reassure markets and to make deals possible. While Duterte hasn't shown those abilities to date, part of his appeal is his unpredictability. He should aim to surprise everyone.
--Editors: Nisid Hajari, Mary Duenwald, Michael Newman
To contact the senior editor responsible for Bloomberg View's editorials: David Shipley at davidshipley@bloomberg.net .
Before it's here, it's on the Bloomberg Terminal.
LEARN MORE