Share the View
Is That Rolex a Bribe, or Free Speech?
A daily digest of opinions and analysis from Bloomberg View.
by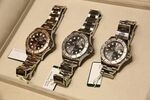 Bribery, Politics and the First Amendment
In a post-Citizens United world, the answer isn't too clear. Lawyers for an ex-governor convicted of corruption are arguing the latter, and Noah Feldman says there's a chance the Supreme Court might agree.
Finance Is No Longer Where the Jobs Are
The financial sector is slowly shedding workers after decades of growth, and Justin Fox reports declines at banks and brokerages are to blame. Meanwhile, Mohamed A. El-Erian offers four takeaways from the April employment report, and Mark Whitehouse investigates the missing middle of the job market.
The Book That Will Save Banking From Itself
In "The End of Alchemy," former Bank of England head Mervyn King argues we need change the relationship between our banks and our society, and fast. Michael Lewis says we'd be all better off if we took his advice.
Why Conservatives Would Obstruct a President Trump
They may agree with him on taxes, immigration and gun rights, but that doesn't mean hard-line congressional Republicans would be Donald Trump's allies. Quite the opposite: Sam Tanenhaus explains why some lawmakers sees "Caesarist" presidents as the enemy (regardless of party).
How Your Cereal Became '100% Natural'
A class-action lawsuit against Quaker Oats questions an old marketing ploy: Just how can processed food be "natural"? Stephen Mihm investigates a century-old claim born of quackery, hucksterism and Victorian sexual repression. 
Ritholtz's Reads
(Read Barry Ritholtz's full daily news roundup.)
Bloomberg Gadfly 
(Read more from BV's sister site for fast business commentary.)
Get Share the View every morning in your inbox. Click here to subscribe.
To contact the author of this story:

Before it's here, it's on the Bloomberg Terminal.
LEARN MORE