Declassified
U.S. Doubles Down on Egypt's Dictator
Deciding Sisi is the least bad option, Washington keeps the aid flowing.
by and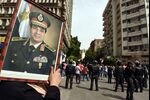 Abdul Fattah el-Sisi has been trampling human rights, the rule of law and freedom of the press since he became Egypt's president two years ago. For almost as long, the international community has called on him to stop. But his critics in Washington have recently changed their tune.
Sisi said Wednesday through an official statement that the human rights situation in Egypt should not be approached from a "Western perspective," and he warned that the "fall of nation states" in the Middle East could fuel the rise of terrorism. According to the statement, Sisi made these points to a visiting U.S. congressional delegation led by House Homeland Security Committee Chairman Michael McCaul.
While the delegation was meeting with Egyptian leaders, the Egyptian police were holding back dozens of journalists who were protesting recent arrests of two colleagues. They were accused of "spreading false news and endangering national security."
The McCaul delegation was only the latest in a string of visits by prominent U.S. lawmakers to Cairo in recent weeks, part of an increased engagement between Congress and Sisi's government that is meant to thaw the chilly relationships that followed Sisi's military coup in 2013. During these visits, American lawmakers who had previously sought to restrict U.S. aid to Egypt told Sisi that they were now more willing to work with him and his government, despite their ongoing concerns about his treatment of his people.
Lindsey Graham, the chairman of the Senate Appropriations Subcommittee on Foreign Operations, had been one of Sisi's toughest critics. He led the push for legislation that made U.S. military aid to Egypt contingent on political reform. After visiting Cairo in April and meeting for two hours with Sisi, he told us that he has changed his mind.
"I think he is somebody we can do business with. I think he's the right guy at the right time, but his actions will determine if I'm right or wrong," Graham said. "We all understand that Sisi is not perfect, but the failure of Egypt would be a catastrophe for the world."
The drastic decline of the security situation in the region since 2013 and Egypt's need for assistance fighting terrorism, especially in the Sinai, have changed the calculus of many lawmakers who wanted to use more sticks than carrots to encourage Sisi's good behavior, Graham explained.
Graham, who along with Senate Armed Services Committee Chairman John McCain and others had worked hard to legislate restrictions on giving aid to Egypt over the past three years, says he now wants a "Marshall Plan" for the Middle East that would drastically increase U.S. aid to Egypt and other Gulf states.
"I stand ready along with many members of Congress to provide more assistance to Egypt because we can't lose Egypt," he told us. "The deterioration in the region has made all of us realize that we are going to have to work harder to achieve stability."
House Speaker Paul Ryan also led a delegation to Cairo in April. He told reporters upon his return that his delegation raised the issue of recent state crackdowns on civil society. 
"Every American delegation needs to do this," he said. He said his message to the Egyptian president was: "You make it more difficult for us to be supportive of you when you have so many human rights violations." 
Ryan said that Sisi told his delegation that he sees his "primary objective" is to bring stability to Egypt. But Ryan responded, "while embracing stability, you should also embrace populism."
In 2011, the Egyptian military raided the offices of the International Republican Institute in Egypt and in 2012 prevented some of the staffers from leaving the country. "IRI is not out to undermine you," Ryan recalled he said to Sisi. 
Graham said his delegation also brought up the crackdown and specifically asked for better treatment of two organizations that are funded partially by Congress: the International Republican Institute and the National Democratic Institute.
The shift of Congressional criticism from public to private interactions with Sisi and his government is in line with the Obama administration. Secretary of State John Kerry has recently tempered his 2013 claims that Sisi was in the process of "restoring democracy" in Egypt, but Kerry maintains that U.S. aid should continue to flow.
Kerry's State Department has repeatedly used waivers in legislation to release billions of dollars in military aid to Egypt, even though the Egyptian government has not met congressional benchmarks on reform and progress on human rights.
Some Egypt experts see the U.S. easing of pressure on Egypt as contributing to long-term instability.
"A lot of people are looking at Egypt and saying Sisi's policies are actively leading in the direction of collapse and the government is actively pursuing policies that are destabilizing the country," said Cole Bockenfeld, deputy director for policy at the Project on Middle East Democracy. "We are repeating the mistakes of the past. The U.S. is hoping to sustain the status quo, which by every indicator isn't sustainable."
The White House has made some changes in military aid to Egypt by ending a controversial financing mechanism and directing more of the aid toward counterterrorism efforts. But without any real strings on the aid, he said, the chances of using the money as leverage to encourage reforms has all but vanished.
After four years of an often confusing and ever changing Egypt policy, the Obama administration and Congress has finally settled on one -- the keyword being "settled." The consensus is that even though Sisi is trampling the rights of his people, he is preferable to any available alternative.
It's quite a shift from Washington's exuberance for the mass protests in Tahrir Square only five years ago. Today Congress and President Obama are propping up the jailer of the protesters they once encouraged.
(
Corrects spelling of Representative Michael McCaul's name in second and fourth paragraphs.
)
To contact the authors of this story:
Josh Rogin at joshrogin@bloomberg.net
Eli Lake at elake1@bloomberg.net
To contact the editor responsible for this story:
Philip Gray at philipgray@bloomberg.net
Before it's here, it's on the Bloomberg Terminal.
LEARN MORE