view
Taking a Chance on Universal Basic Income
A daily digest of opinions and analysis from Bloomberg View.
by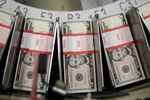 The Next Big Idea in Social Policy
It's simple, elegant and seemingly unrealistic: What if the U.S. government gave every citizen $10,000 with no strings attached? Countries all over the world are experimenting with similar proposals, and Paula Dwyer says they're worth taking seriously.
Warren Buffett Falls Into the Confidence Trap
The Berkshire Hathaway chairman argued Saturday that not even a Donald Trump presidency would undermine U.S. economic growth. Francis Wilkinson explains why such complacency is the "neurotic tic of successful democracies."
We Are All Zero Hedge
Noah Smith revises his opinion of the high-profile industry website, which he once savaged and whose pseudonymous writers were unmasked last week. It turns out anxious finance workers need a support group just as much as the rest of us.
When Sentiment Conflicts With Investing Reality
Emotions too often cloud our perceptions of events, and economic events are no exception. Barry Ritholtz examines four recent cases in which human psychology clashed with hard data, and finds in them a lesson about trust. 
Draft Women? Great Idea!
The U.S. recently inched one step closer to requiring both sexes to register with Selective Service. The Bloomberg View editorial board hails the move as a victory for basic fairness and military readiness alike.
Ritholtz's Reads
Sell stocks in May? Tempting, but not very smart (WSJ)
Don't use the CAPE ratio (Meb Faber Research)
One of these people could be the next U.S. Treasury secretary (Bloomberg)
(Read Barry Ritholtz's full daily news roundup.)
Bloomberg Gadfly 
(Read more from BV's sister site for fast business commentary.)
Get Share the View every morning in your inbox. Click here to subscribe.
To contact the author of this story:

Before it's here, it's on the Bloomberg Terminal.
LEARN MORE