U.K.
A Vote to Stay in the EU Isn't a Vote for Europe
Remaining in the EU will only make Britons hate it more.
by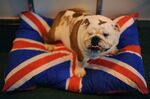 The biggest misconception about next month's referendum on Britain's membership of the European Union is that it will put the issue to rest. That's unlikely. Whichever way the vote goes, Brexit isn't going away.