Share the View
Some Friendly Advice for the Class of 2016
A daily digest of opinions and analysis from Bloomberg View.
by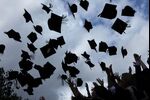 Here's Your Degree. Now Go Save Democracy. 
In an address at the University of Michigan Saturday, Michael R. Bloomberg urged graduating students to resist political demagogues, warning, "Those who promise you a free lunch will invariably eat you for breakfast."
Narrative of U.S. Decline Is Campaign Hype, Not Reality
Donald Trump, Bernie Sanders and even Hillary Clinton are exaggerating the country's economic problems to play on voters' fears. Albert R. Hunt calls their bluff.
Kasich Is Still Trump's Best Weapon
He may view himself as the responsible Republican candidate, but Ohio Governor John Kasich is tearing his party apart. Jonathan Bernstein lays out the stakes ahead of the crucial Indiana primary.  
Meet the Big Spenders on R&D
Amazon and Facebook are pouring more and more resources into long-term bets, especially when compared with the rest of corporate America. Justin Fox says that's welcome news for the rest of the economy.
Quenching a Thirsty India 
The world's biggest user of groundwater is experiencing a historic drought, and hydrologists and economists alike are working on solutions. The Bloomberg View editorial board says smart planning and increased efficiency would go a long way. 
Ritholtz's Reads
Inside one of the world's most secretive iPhone factories (Bloomberg)
How driverless cars could fix the American commute (Curbed)
A master class on Donald Trump with five people who wrote the book on him (Politico)
(Read Barry Ritholtz's full daily news roundup.)
Get Share the View every morning in your inbox. Click here to subscribe.
To contact the author of this story:

Before it's here, it's on the Bloomberg Terminal.
LEARN MORE