Law
A Kickback Is a Conspiracy to Extort Yourself. Wait, What?
The majority reads between the legal lines. Roberts and Sotomayor don't love it.
by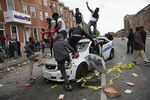 The Supreme Court has decided a Baltimore Police Department extortion case straight out of "The Wire" on the basis of common sense. It held that the federal bribery statute allows a conviction for conspiracy to commit bribery even when the co-conspirator was also the victim. That's the nature of a kickback, after all: The party that's being extorted is also one of the beneficiaries of the scheme.