Share the View
Donald Trump Forces Us to Relive the 1980s
A daily digest of opinions and analysis from Bloomberg View.
by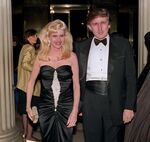 Donald Trump Rides a Wave of Warped '80s Nostalgia 
The reality TV star's presidential campaign has a "distinctly '80s feel," according to conservative commentator Nick Adams, who envisions Trump as "the ultimate action hero." But Leonid Bershidsky argues that his message evokes the dying days of the Soviet Union more than Reagan's "Morning in America."
2016 Spells Doom for Social Conservatives
Remember when "values voters" could make or break a Republican presidential candidate? Today, the GOP front-runner barely even pretends to care about abortion or same sex-marriage. Francis Wilkinson considers the dismal future of social conservatism in a post-Trump world. 
Forecasters Keep Forecasting (Unfortunately)
McKinsey analysts have ventured a guess about what the world economy will look like in 2035, and Barry Ritholtz has some friendly advice for them: Stop. The hard truth is that no one can read the future, no matter how many data points and pretty colored charts are at their disposal.
Austerity's Victims May Decide Britain's EU Vote
With the U.K.'s referendum on the European Union fast approaching, Prime Minister David Cameron is in the midst of a frantic "stay" campaign. Jamie Murray says his hardest task will be convincing the Britain's poor that they're better off the way things are.
Mexico's Faltering Fight Against Corruption
Almost a year has passed since Mexico passed a package of reforms designed to limit corruption, but the ruling Institutional Revolutionary Party is now standing in their way. The Bloomberg View editorial board says the country can't afford to wait much longer.
Ritholtz's Reads
Alphabet's next big thing: building a 'smart' city (WSJ)
Where did the government jobs go? (NYT Magazine)
Larry Summers is wrong. Harvard should be spending much, much more of its money. (Fusion)
(Read Barry Ritholtz's full daily news roundup.)
Bloomberg Gadfly 
(Read more from BV's sister site for fast business commentary.)
Get Share the View every morning in your inbox. Click here to subscribe.
To contact the author of this story:

Before it's here, it's on the Bloomberg Terminal.
LEARN MORE