Editorial Board
Congress's Big Chance on Puerto Rico
A bipartisan plan for the island's fiscal mess is within reach.
by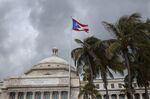 The U.S. Congress may be blowing its chance to help bring to an end a painfully long-running saga: the financial implosion of Puerto Rico.
House Speaker Paul Ryan is working to put together a promising plan to address the island's bankrupt finances. Unfortunately, it is unlikely to be ready before what could be the island's next and biggest default, on May 1, when a $422 million payment on debt issued by Puerto Rico's Government Development Bank comes due. Bigger and more consequential defaults may follow on debt protected by Puerto Rico's constitution, triggering a cascade of ugly lawsuits and roiling the municipal bond market.
The draft bill puts in place two mechanisms that are essential if Puerto Rico is to regain its economic health: an independent fiscal control board to end decades of fiscal mismanagement, and an accompanying last-ditch mechanism for restructuring Puerto Rico's $70 billion in debt.
It's a tribute to the bill's bipartisan nature that these provisions have attracted hyperbolic denunciations from both sides of the aisle.
Some Democrats fret that the "neocolonial" control board usurps the authority of the island's elected government. But that's the whole point: Puerto Rico's elected representatives and executives have repeatedly trampled over their own debt limits and rules, and Puerto Rico's voters have repeatedly failed to hold them to account. Members of the Republicans' Freedom Caucus, meanwhile, rail that the bill is a "bailout" -- never mind that it does not oblige taxpayers to pick up Puerto Rico's tab.
Congressional negotiators should instead focus on how the bill can best balance the real need for debt relief with respect for the rights of investors. Say what you will about the aggressive lobbying by the hedge funds that now own one-third of Puerto Rico's debt, bondholders are only asking their issuers to play by the rules. Break the rules often enough and you'll end up undermining a market that has been essential to supporting investment and economic growth.
If Ryan wanted to improve the bill's prospects, he could encourage negotiators to strip out contentious provisions on cutting the minimum wage and transferring federal land to the commonwealth.
True, the bill doesn't do much to spur growth or reverse the exodus of Puerto Rico's population to the mainland. But in the heat of an election year, addressing Puerto Rico's fiscal mess should come first, and it would be an achievement to build on.
--Editors: James Gibney, Michael Newman.
To contact the senior editor responsible for Bloomberg View's editorials: David Shipley at davidshipley@bloomberg.net .
Before it's here, it's on the Bloomberg Terminal.
LEARN MORE