2016 Elections
Vernon Jordan Calls Out Trump on Racism
"The brazen bigotry we thought society had driven out of modern politics has been given a microphone."
by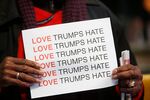 Vernon Jordan, a pillar of the civil rights movement and corporate community, assailed Donald Trump for running a presidential campaign pandering to racial bigotry.
"Trumpism is proof that what some thought was an undercurrent -- what many believed to be a fringe confined to Klan meetings and neo-Nazi groups -- is now out in the open," Jordan said Sunday at Howard University's Rankin Chapel in Washington. "The brazen bigotry we thought society had driven out of modern politics has been given a microphone, a platform and soon, it seems, a nomination."
He also criticized the other main Republican contender, Texas Senator Ted Cruz. But the billionaire New York businessman was the main focus. "Trumpism is not new," Jordan said. "It recalls Strom Thurmond in 1948. It recalls George Wallace in 1972. Presidential candidates who won states and primaries on platforms no less hateful."
Jordan is a Democrat and supporter of Hillary Clinton. However, he long has had good relations with leading Republicans, including presidents, and rarely has leveled such sharp criticism against a major political figure.
This gives Jordan a kind of credibility that's different from that of many of the African-Americans who have attacked Trump and Cruz. He has close ties to the top echelons of the corporate community, having served on many company boards. He is a senior managing director of Lazard Freres, the investment banking firm, and senior counsel to the Akin, Gump law firm.
Trump has been accused of playing the race card, starting years ago when he charged falsely that President Barack Obama wasn't really born in Hawaii and thus was illicitly elected. "We see scars reopened in ridiculous questions asked of no other President, like 'Where were you born?' and 'What is your religion?'" Jordan said at Howard, calling the Republican front-runner "a man who sees wounds and seeks to rub them with salt."
In Trump's presidential campaign there have been ugly racial and ethnic overtones. He charged that Mexico was sending rapists across the border; he has called for stopping Muslims from entering the U.S.; he didn't immediately disavow the embrace of a Ku Klux Klan leader and has claimed that 81 percent of murders of whites are committed by blacks. The real figure, FBI data shows, is 15 percent. At some Trump rallies, blacks and Latinos have been roughed up.
Jordan, who once ran the Urban League and the United Negro College Fund, also put in a plug for his candidate, Clinton, while praising Senator Bernie Sanders and urging him to rally behind Clinton if she's the nominee.
Howard University, chartered right after the American Civil War, is the country's most prestigious predominately black university. Rankin Chapel is a renowned venue that often hosts religious, civil rights and sometimes political leaders.
To contact the author of this story:
Albert R. Hunt at ahunt1@bloomberg.net
To contact the editor responsible for this story:
Jonathan Landman at jlandman4@bloomberg.net
Before it's here, it's on the Bloomberg Terminal.
LEARN MORE