Finance
Don't Let Private Equity Keep California in the Dark
A push for transparency in the investment firms needs support.
by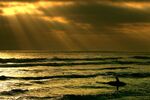 Has California retreated from its effort to shed light on the ways in which private equity firms pay themselves, sometimes at the expense of the state's citizens? We'll know very soon.
Private-equity firms typically seek to profit by buying, restructuring and selling companies, and are supposed to share the proceeds with "limited partners" -- pension funds, endowments and other investors who provide much of the firms' capital. Problem is, firms' managers have a documented history of devising ways to divert the money to themselves. Among other things, they often misallocate expenses and set up consulting firms through which they charge the companies for various services -- without disclosing such "related-party transactions" to investors.
The Securities and Exchange Commission has exposed these practices and imposed fines on some firms, but the investors have done little to protect their interests -- or, in the case of public pension funds, the interests of the teachers, state workers and other folks on whose behalf they invest. Most of the agreements they sign with private equity firms still require very little disclosure. This suggests that the private equity industry has gained a counterproductive level of influence over the managers of the pension funds.
It thus came as an encouraging development when California State Treasurer John Chiang, who sits on the boards of giant pension funds CalPERS and CalSTRS, called last October for legislation requiring greater disclosure from private equity firms. The relevant bill, introduced in February, required that all new agreements between the firms and California public funds provide for full disclosure of all fees, including compensation received from portfolio companies. It also required the pension funds to make some of this information available to the public at least annually.
Unfortunately, after various iterations, the bill contains some serious shortcomings. For one, there's no definition of the term "related parties," permitting private equity firms to interpret it in ways that would allow them to continue hiding fees from investors. They could, for example, use the SEC's definition, which would enable them to exclude payments made by portfolio companies to firm employees who double as consultants.
The process has been so opaque that it's hard to know exactly who is responsible for the bill's failings. Chiang, whose office has overseen the drafting, hasn't taken any notable steps to address the flaws. The boards of the two public pension funds, for their part, haven't come out in favor of any version of the bill.
It's not too late to make this right. Chiang must recognize that passing the bill in its current form would represent a failure to fulfill his promise, and use his considerable power to insist on real reform. If he doesn't, legislators must demand (or be prodded to demand) an effective fix. The financial security of millions of California public employees -- and potentially other pension-fund beneficiaries across the country -- depends on it.
To contact the author of this story:
Yves Smith at yves@nakedcapitalism.com
To contact the editor responsible for this story:
Mark Whitehouse at mwhitehouse1@bloomberg.net
Before it's here, it's on the Bloomberg Terminal.
LEARN MORE