Finance
U.K. Leads a Global Banking Retreat
U.K. banks are cutting their exposures at the fastest pace since the financial crisis.
by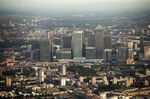 U.K. banks are giving new meaning to the term "Brexit": They've been pulling money out of the rest of the world at a pace not seen since the global financial crisis.
The latest data from the Bank for International Settlements suggest that financial institutions have been beating a retreat just about everywhere. In 25 countries whose banks report to the BIS, total foreign claims (such as loans and securities) stood at $23.2 trillion in December 2015, down 5 percent from a year earlier and the lowest level since 2006. Exposures to both developing and developed nations declined.
Even against that background, the global financial hub known as the U.K. stood out. The foreign claims of the country's banks declined 15 percent in 2015 -- the equivalent of more than half a trillion dollars. That's the largest decline, in both dollar and percentage terms, since the crisis year of 2009. The biggest portions of the decline came in claims on the U.S., China, France and Spain.
Here's a chart showing the running one-year change in U.K. banks' claims on the rest of the world:

Why are so many banks reducing their exposures? One explanation is increasing concerns about global growth, as oil prices plunged and the U.S. Federal Reserve increased interest rates for the first time in almost a decade. Economists lowered their growth forecasts for developed and developing economies alike throughout 2015, making investment everywhere look less attractive.
Regulation undoubtedly also played a role. Authorities in the U.S. and Europe have pushed banks to finance more of their investments with loss-absorbing capital, and to simplify their operations. Instead of boosting capital ratios by selling new stock or limiting dividends, banks have often chosen to reduce the denominator by shedding assets.
In the longer run, the banks' retrenchment may be desirable. The past decade's debt crises in the U.S. and Europe, and the unfolding ones in various emerging markets, strongly suggest that the global economy is awash in credit. Also, to the extent that banks are becoming simpler and more resilient, the changes can help insulate the economy from financial shocks (though they still have a long way to go).
That said, the decline in credit won't make it any easier for the global economy to shake off lackluster growth. What's beneficial in the long term might not be so pleasant in the short term.
To contact the author of this story:
Mark Whitehouse at mwhitehouse1@bloomberg.net
To contact the editor responsible for this story:
James Greiff at jgreiff@bloomberg.net
Before it's here, it's on the Bloomberg Terminal.
LEARN MORE