Currency
The 20 Is the Right Bill for Harriet Tubman
The denomination played a key role in her long, daring and impoverished life.
by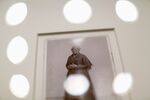 The U.S. Treasury's decision to portray the great anti-slavery warrior Harriet Tubman on the face of the $20 bill is symbolic on many levels. The fact that she'll replace Andrew Jackson -- the country's seventh president, and a man who owned more than 100 slaves -- is especially sweet. What's even more remarkable, though, is how significant the $20 denomination would be for Tubman throughout her life.
That's the precise amount Harriet's elderly father Ben Ross, a timber harvester, paid his employer Eliza Brodess in 1855, to buy his wife Rit her freedom. Eliza was the widow of Edward Brodess, the owner of a small plantation in Dorchester County, on the Eastern Shore of Maryland. The Brodesses used to hire out Harriet to neighboring farms, where she was brutally flogged as a young child. After she ran away to Philadelphia in 1849, afraid of being sold like her sisters, Eliza was the one who offered a reward for her return.
Two years later, a desperate Harriet would demand $20 of abolitionists at the Anti-Slavery Office in New York to fund a mission to bring her septuagenarian parents from Maryland to Canada. Though Ben and Rit were legally free, Ben, who was active on the Underground Railroad, was in danger of being arrested for assisting other slaves to escape. When the office said they didn't have the money, Tubman simply staged a sit-in. At the end of the day, when she awoke from a doze into which she'd fallen, she was pleased to discover that visitors to the office had learned of her plight and had contributed three times that amount.
In 1860, Tubman would beg the anti-slavery activist Wendell Phillips to give her another $20, in order to free her sister Rachel and Rachel's two children, Angerine and Ben, the last of her family left on the Brodess plantation. Harriet needed a total of $100 to pay for the journey (she had to buy food and bribe helpers along the way), but was short by $20.
Tubman had been trying for a decade to liberate her sister. Determined to make one last attempt, she reached Dorchester County in November, only to learn that Rachel had been dead for several months. Even worse, a lack of money and logistical confusion forced Harriet to return without her orphaned niece and nephew. Though she successfully shepherded another slave family to safety, the emotional heartbreak of leaving the children behind, and physical hardship of the journey through swamps and icy winds, was too much for Tubman to bear. It would be her last raid.
Twenty dollars per month was the grand total of Tubman's pension. The amount was just about enough for the wheelchair-bound Tubman to employ a nurse at the old age home she had set up -- the Harriet Tubman Home for Aged and Infirm Negroes in Auburn, New York -- where she died penniless in 1913 at the age of 91. The paltriness of her pension was a source of much dismay and several of her influential friends campaigned for a more just settlement, pointing to her extraordinary courage in shepherding over 70 slaves to freedom in the course of more than a dozen raids. In fact, initially Tubman was granted only her $8 widow's pension. It was only after a sympathetic New York congressman, Sereno E. Payne, introduced a bill asking that she be paid a pension in her own right for her work as a Civil War nurse, cook and spy, that she got the additional $12. By that point, she was almost 80 years old; she would die a little over a decade later.
Given the role $20 played in Harriet Tubman's long, daring and impoverished life, it's both poignant and wonderful that this piece of currency will soon bear her image. No other could be more fitting.
To contact the author of this story:
Nina Martyris at contactnm@zoho.com
To contact the editor responsible for this story:
Nisid Hajari at nhajari@bloomberg.net
Before it's here, it's on the Bloomberg Terminal.
LEARN MORE