Editorial Board
Brazil Needs to Move Past Dilmageddon
A new president would have only a narrow window for reforms.
by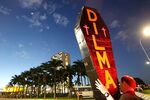 The vote by Brazil's lower house to push forward the impeachment of President Dilma Rousseff promises an end to the country's long political impasse. Markets have been responding with an optimistic surge. But once Rousseff is out of office, Brazil's next leaders will need to appreciate that the window for new cooperation and reform will be narrow.
The wide margin of the lower house vote suggests the Senate may conclude impeachment proceedings as early as mid-May. Vice President Michel Temer, the leader of the Brazilian Democratic Movement Party -- previously Rousseff's chief coalition partner -- has already been reaching out to potential cabinet members to form a government of national unity.
Temer has his work cut out for him, and not only because he lacks widespread public support and will face stubborn resistance from Rousseff and her patron, the former President Luiz Inacio da Silva. Like many other members of his party -- including the leaders of the lower house and the Senate -- Temer himself may yet be implicated in the multibillion-dollar bribery and kickback scandal at the state-owned oil company Petrobras. And there's still a chance that the nation's electoral court will call for new elections because of campaign finance irregularities in the 2014 contest.
QuickTake Brazil's Highs and Lows
Even setting aside such political threats, the work that's needed to improve Brazil's economy is considerable. Rousseff's administration squandered the fruits of the global commodity boom. Now that boom has turned to bust, public and private debt is growing. Last year, the economy shrank by nearly 4 percent, and the contraction is expected to keep up in 2016. Unemployment has almost doubled since Rousseff's 2014 re-election.
So Brazilian voters are in no mood to see a caretaker government impose the kind of austerity it would take to loosen its fiscal bind. Temer will need to work with other market-friendly parties to spur growth. In a manifesto issued last fall, his party proposed, among other things, bolstering the independence of the central bank, reducing the state's role in the oil sector, and loosening various mandates that straitjacket the national budget.
Also important to a jaded Brazilian electorate will be to expand anti-corruption laws -- many of them enacted under Rousseff. Last month, the public prosecutor's office (which has led the Petrobras investigation) said it had gathered 2 million signatures on a petition asking Congress to consider 10 new laws that would help it bring corrupt officials to justice.
Ideally, all or most of this should get done by the end of summer. Municipal elections scheduled for October will revive the political parties' animal spirits, reducing the prospects for cooperation. If a President Temer wants to get on the right side of history, he'll need to move quickly.
To contact the senior editor responsible for Bloomberg View's editorials: David Shipley at davidshipley@bloomberg.net .
Before it's here, it's on the Bloomberg Terminal.
LEARN MORE