view
Bernie's Revolution Comes to Bourgeois Greenwich Village
Sanders' rally this week was surrounded by reminders that radicalism fades.
by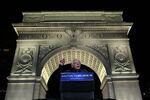 Some 27,000 people waited hours for the chance to see Bernie Sanders bring his political revolution to Greenwich Village on Wednesday night. No place in America has deeper ties to radicalism than the Village. But revolutions have a way of fading. Can Sanders' last?
To ponder that question, on his next visit to the Village, he might want to seek out the Cedar Tavern, where beat poets and abstract painters brought their thirsts, and where Kerouac and Pollock got banned for over-indulging. It's now a "European Wax Center." That may be one European institution Bernie could do without. 
Sanders might go looking for Chumley's speakeasy, where Lee Chumley once published the Industrial Workers of the World newspaper. But the place collapsed in 2007 and has yet to re-open, thanks in part to the local fusspots who don't want any more Wobblies, in politics or sobriety, on their street.
Sanders could drop in on 36 Grove Street, Emma Goldman's last U.S. residence before she and Alexander Berkman were deported to the Soviet Union in 1919. But the owners were asking $40,000 a month in rent in 2012. Not exactly working class.
He might want to see the Youth International Party headquarters, where Yippies developed anarchist plots but mostly settled for throwing pies at conservative figures. But it closed in 2014, when they lost the building in mortgage foreclosure.  Another victim of the big banks!
The Gaslight Café, where Bob Dylan debuted songs that would inspire political protests of every kind, is now The Up & Up, "a craft cocktail bar."  If Sanders wanted actual crafts, he'd probably head to Liberty House, a cooperative established by Abbie Hoffman and Student Non-Violent Coordinating Committee. But now it's a luxury spa and beauty shop – and who needs a facial when you don't comb your hair?
Maybe he could try Minetta Tavern, where Allen Ginsburg allegedly had his first drink.  But it's practically impossible to get a reservation there now, thanks to celebrity chef Keith McNally. Besides, a hamburger is $32. Must be Clinton donors in there.
There's still Marie's Crisis Café, a piano bar named in part for Thomas Paine (author of The American Crisis), who allegedly died there. But only showtunes are permitted, and it's hard to see Sanders belting out Rodgers & Hammerstein. 
Perhaps Sanders' best bet for whiling away an evening pondering revolution is just a few blocks east of Washington Square Park, at the KGB Bar. The second floor bar and literary salon was once home to a speakeasy for Ukrainian socialists. Its red walls are adorned with Soviet propaganda posters, red curtains keep out preying eyes, a hammer and sickle flag hangs over the center of the bar, and a TV, probably from the Brezhnev era, sits on the end of the bar.
It's one of the few places in the Village where a beer can still be had for $4. As Sanders spoke to the masses in the park, I splurged on a Russian import, Baltika, for $7, not realizing it came in a 22 ounce bottle. Comrades! 
About two dozen people were listening to Neil Shepard reading poems about Vermont, where he lived and taught for many years. His last was about a farmer named Tenney, whose land was taken from him by "a government bent on progress," in order to build the interstate. When the sheriff came to move him out, old Tenney released his animals, locked himself in his home, and set it on fire. 
And the state --

the state -- never tendered a note of

condolence to his next of kin (never

mind an apology). They just progressed.
Progressives. They cleared land in the Village, too.
Shepard said he had known Bernie for decades, supported him, and would have been at the rally but for the poetry reading. Shortly after it ended, the bar completely cleared out. Soon, a young couple walked in and ordered Moscow Mules. 
Several blocks away, people emptied out of Washington Square Park, leaving the streets around it strewn with garbage -- including copies of the Socialist Appeal, which brimmed with optimism for the coming revolution. ("Montreal Marxist Winter School a Great Success!")
I asked the barman at KGB if he thought anyone would be coming over from the rally. "I don't know. Maybe. Probably." And then, leaning in and cupping his hand over his mouth, he said:  "Bunch of pseudo-commies."
In the Village, as in campaigns, revolutions are hard to ignite, harder to win, and hardest of all to sustain.
To contact the author of this story:
Francis Barry at fbarry5@bloomberg.net
To contact the editor responsible for this story:
Christopher Flavelle at cflavelle@bloomberg.net
Before it's here, it's on the Bloomberg Terminal.
LEARN MORE