view
To Save State Universities, Free Them From the States
Budget cuts are bad, but political games and pointless restrictions also handcuff public schools.
by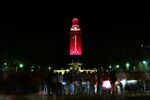 Lost in the noise of the presidential primaries is an important policy debate over college affordability. Bernie Sanders has proposed making public colleges and universities tuition-free, and Hillary Clinton has offered a plan that would invest $350 billion over 10 years in higher education. 
The focus on funding for public universities is not surprising given the financial pressures they have faced over the last several decades. Since 2000, public universities on average have lost a remarkable 25 percent of their state funding per student. 
But alongside the money issue is a separate set of state policy and governance constraints that also impair the flexibility and vitality of public universities. From annual state budget disputes to onerous rules, these controls have made public universities vulnerable to a most venal form of destabilizing political intervention.
One window for looking at these issues is to compare the trajectory of public universities to that of their not-for-profit private counterparts, the subject of a study I recently co-authored for the TIAA Institute. Significant tuition increases, enrollment shifts to out-of-state students and redirection of funds from needs-based to merit-based financial aid have prompted fears that public universities are failing their mission to provide an affordable education that is available broadly and tailored to the needs of their home states.
It is also true, though less widely noticed, that many not-for-profit private universities have tried to fill the void by becoming more publicly oriented.
Over the last few decades, for example, leading private research universities have invested heavily in financial aid. Several, such as Columbia, Harvard and Emory, now hover alongside many of their public peers in the percentage of students who receive Pell Grants. Private universities such as my own, Johns Hopkins, are devoting energy and resources to strengthening local communities through the creation and operation of public K-12 schools, community redevelopment efforts that reduce urban blight through housing and commercial development grants, and support for local arts and cultural activities.
Further, most private research universities are now little different from their public counterparts in their support for local economies through technology transfer and startup activities -- witness the catalytic role played by Stanford, the Massachusetts Institute of Technology and Harvard as economic bulwarks in their regions. Even in mass education, the traditional mainstay of public universities, private schools have made an early commitment to developing open online platforms like Coursera, EdX and OpenCourseware.
But private universities can never fully assume the public role of their state-financed brethren. While there has been a narrowing of the affordability gap, public schools remain more affordable and provide a college education to nearly four times as many students as their not-for-profit private counterparts. Public universities also offer programs that are often uniquely attentive to the needs and complexions of their home states -- think the University of Wisconsin and the study of dairy farming.
However, as the two trajectories converge, the question is whether public universities can compete on a level playing field with their private counterparts -- and this is where issues of governance come into play.
From requirements of prior approval for major purchases to obtrusive financial rules that perpetuate perverse spending habits, draconian state management rules hinder almost every aspect of public university operations. In state after state, we have witnessed high-profile and damaging clashes between political entities and leaders at public universities over budgets, day-to-day operations and even academic decision-making.
Public university presidents lament that they spend as much time currying favor, managing crises and forestalling political intervention at the state capitol as they do running their universities. Even more distressing, according to a study of institutions by the American Association of Universities, the presidents of public universities turn over at more than twice the rate of their private peers.
These encroachments exacerbate the challenges public schools have experienced while also making it increasingly difficult for them to compete with the private institutions for students, faculty and research funding. To ensure a more level playing field, states should focus on three areas of reform.
First, at most state universities, the governing boards are made up largely of political appointees chosen by state governors and lawmakers. Many such schools would be better served by adopting the private university model, in which members are chosen from outside political structures. This would ensure greater stability, accountability and independence from political meddling. 
Second, states should expand the use and scope of new "charter" arrangements with their legislatures, which provide public universities greater autonomy in areas such as hiring, purchasing and budgeting. In general, the university receives these liberties in exchange for pledging to meet various performance benchmarks, possibly including graduation rates, diversity, financial aid and the like. These sorts of deals have been reached in North Dakota, Virginia and elsewhere, and give universities the discretion needed to fulfill their public mission while being held accountable for state resources.
Last, states should guarantee multiyear funding for public universities, rather than repeating a legislative debate every 12 months. This would allow administrations and faculties to better engage in strategic planning and provide them some of the stability and predictability now enjoyed by their private peers.
Presidential candidates are right to bring attention to the need for re-investment in public universities. Our entire education system suffers when these institutions are starved of the resources they need. But in states such as Arizona, where leaders have slashed funding by 50 percent per student while ignoring universities' requests for regulatory reform and greater budgetary control, it is clear that money isn't the only obstacle. Indeed, as Clinton acknowledged in a recent debate: "If you don't have some agreement within the system from states, families, students, it's hard to get to where we need to go."
States need to do more than fund public universities adequately -- they must also give them the freedom and autonomy they need to innovate and to prosper. 
To contact the author of this story:
Ronald J. Daniels at president@jhu.edu
To contact the editor responsible for this story:
Tobin Harshaw at tharshaw@bloomberg.net
Before it's here, it's on the Bloomberg Terminal.
LEARN MORE