view
Trump's Path Gets a Lot Rockier
His path to a majority of Republican delegates gets a lot rockier.
by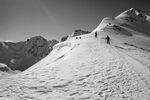 Colorado Republicans are busy this weekend making it harder for Donald Trump to get 1,237 bound and committed delegates by June 7, when the final primaries are held.
Colorado's initial caucuses were held on March 1, but only now has a state party convention gathered to choose its 37 delegates for the national convention in July. Those delegates will be bound to a candidate if they announce their support before the final vote. If not, they'll be free to choose whom to support. And with a huge gap between the organizational incompetence of the Trump campaign and the solid Ted Cruz effort, Cruz is dominating.
Of the 37 delegates, 21 are being selected from Colorado's seven congressional districts (three each), with the remaining 16 chosen statewide. Cruz-backed slates have already swept several congressional-district votes, and by all accounts he'll win the rest. 1
Colorado was expected to be good for Cruz, but not quite this good. The expert panel put together by FiveThirtyEight projected Trump to win seven delegates in the state. If he's shut out, as appears likely, he'll fall further behind the pace he needs to wrap up the nomination. That would put him on a path to reach only 1,175 delegates – 62 shy of a majority for the nomination.
Even if he hits the winner-take-all targets in the primaries he is expected to win -- in New York (which votes on April 19) and in Connecticut, Delaware, Maryland, Pennsylvania and Rhode Island (April 26) -- he could at best beat projections by about 40 delegates.
And the only other states where he has a reasonable chance of exceeding expectations are Indiana and delegate-rich California. 
So while Trump can still win by June 7 (as Nate Cohn argued today at the Upshot), he's run out of a margin of error. He has to maximize victories on April 19 and April 26 in the Northeast; win in Indiana on May 3, and win big on June 7 in California. 
If he doesn't win by then, he'll go into the pre-convention period needing to make up the difference. That's possible if the party chooses to close ranks around him -- especially if the party can push either Marco Rubio or John Kasich to urge their delegates to switch to Trump. But if the party instead continues to oppose him, he'll be fighting an uphill battle to get more than a handful of the 150 or so unbound delegates.
Meanwhile, Trump's national lead over Cruz continues to slump. His campaign has also been uncharacteristically quiet since losing in Wisconsin on Tuesday, and we have yet to see what will happen to his vote share if he can't command media attention. It's of course possible he'll rebound -- he's still polling well in New York -- but the hard delegate numbers are starting to look tough for him. 
The details may matter. In some cases, Cruz-backed slates include uncommitted delegates. We can be relatively certain none of them will eventually vote for Trump, but they may not turn out to be loyal to Cruz on rules or credentials votes at the convention in Cleveland, or reliable votes for Cruz against some potential other candidate.
To contact the author of this story:
Jonathan Bernstein at jbernstein62@bloomberg.net
To contact the editor responsible for this story:
Katy Roberts at kroberts29@bloomberg.net
Before it's here, it's on the Bloomberg Terminal.
LEARN MORE